This service is currently only available for Xbox One and PC.
For Xbox One we will provide you a new email, password and gamertag and that will be your new account you play WW2 on. For PC services, we will invite you to our lobby.
This is an amazing service which also includes DIAMOND and CHROME GUNS, you DO NOT want to miss out on this, get it while its still available!

BUY INSTANTLY @ www.BrownMagician.com
24/7 Customer Support Chat: Click Here
YOU CAN ALSO CONTACT US USING ONE OF THE METHODS BELOW
PRIVATE MESSAGE:
CLICK HERE
YOU CAN ALSO MESSAGE USING
Text SMS,
Kik Mobile-App
or
Skype
*(Use Kik for fastest response):
My Kik:
redblood_dk
Text Message SMS(

USA & CANADA ONLY)

:+1(310)694-5430
My Skype(worldwide)
:
Live:redblood_dk
Click Here to Add My Skype
*Please send a missed call on
Skype
to make sure your friend request has gone through.
My Discord: BrownMagician#0001
https://discord.gg/DJEw5z7
XBOX ONE PREMODDED ACCOUNT PACKAGE ($120)
_____________________________
PC Package Prices Below
PC Multiplayer
Price: $60
Whats Included?:
- Any Prestige
- Max Infantry Division
- Max Airborne Division
- Max Armored Division
- Max Mountain Division
- Max Expeditionary Division
- All Guns with Chrome Camo
- All Diamond Rifle Camos
- All Diamond SMG Camos
- All Diamond LMG Camos
- All Diamond Sniper Camos
- All Diamond Shotgun Camos
- 15 Create-a-Class Slots
- Legit Stats

PC Zombies
Price: $50
Whats Included?:
- Any Zombies Rank
- All Raven Research Mods Unlocked
- Legit Stats

PC Full Package
Price: $80
Whats Included?:
- PC Multiplayer Package
- PC Zombies Package
- Discounted Price for purchasing both at once
PC Supply Drop Package (300 supply drops)
Price: $60
- 300 Supply Drops
- 300 Rare Supply Drops
_____________________________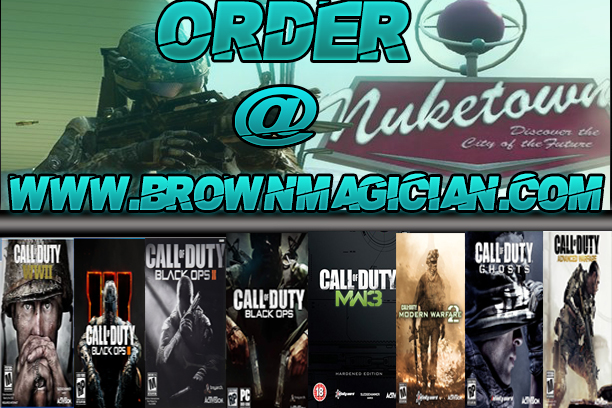 ________________________________________________________​
Disclaimers
We are not responsible for any bans/resets. You buy this service at your own risk. No refunds will be given under any circumstances. However, we currently have a 0% ban/reset rate and expect it to stay this way as we use methods that are as safe as possible. We have done numerous test accounts and all remain unaffected. Also keep in mind this is a very new game and no one can ever predict what update/patches can happen in the future as this game is brand new. As we have seen many times, unpredictable patches/updates happen all the time, and this is totally out of our control.

This service is run as a separate entity of Se7enSins.com and BrownMagician. Se7enSins and BrownMagician accept no responsibility under any circumstance. By purchasing this service, you relieve Se7enSins and BrownMagician of all legal responsibility. All services are done by trained professionals who have years of experience playing Call of Duty, these experienced individuals have mastered the art of leveling and are here to share the experience with you. All payments received are for the time required for guidance and tutorial with you, to pass and share the knowledge.

BrownMagician is not directly affiliated with this non-profit service at all. Any revenue generated goes back to the community and towards further teaching and knowledge.​
Last edited: