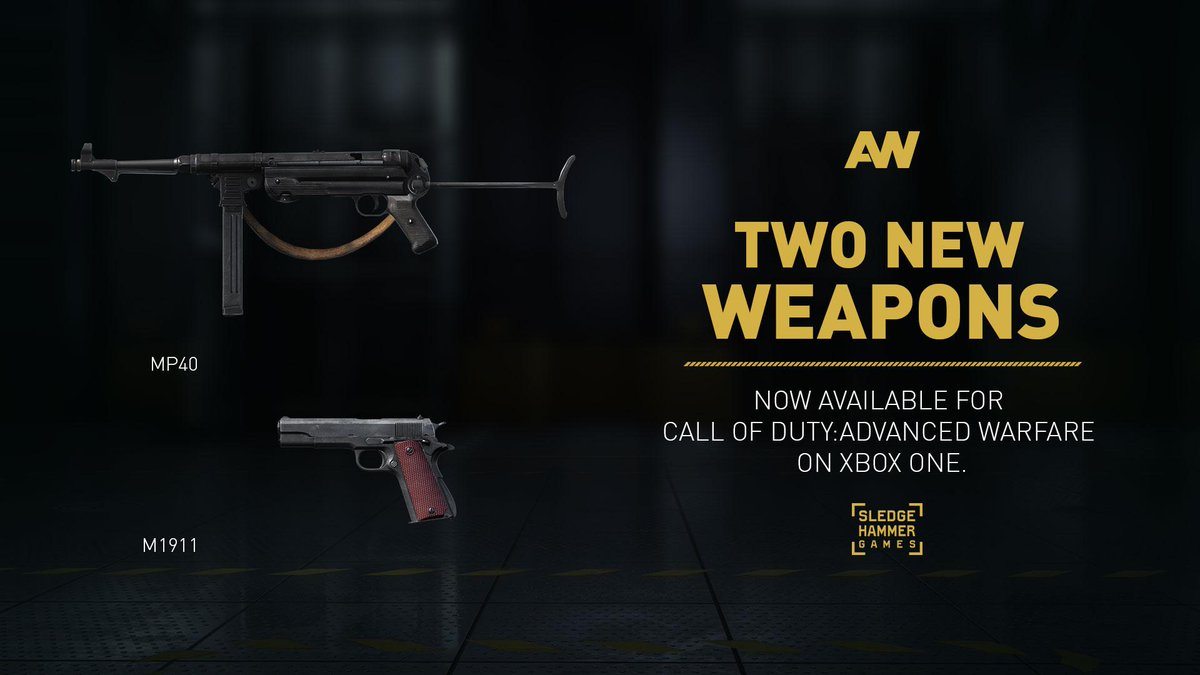 ​
Sledgehammer Games is at it again! Developers are reviving previous Call of Duty game weapons every couple months or so, with a theme of World at War this time around. The good old M1911 handgun, and the fan-favorite MP40 are making a come back.
As of
9/30/2015,
these weapons are available in both regular Supply Drops
AND
Advanced Supply Drops, unlike the Exo gear loot Sledgehammer Games also releases only within Advanced Supply Drops. The two weapons, along with their four variants each, will be on Xbox One first, followed by PS4 soon. Unfortunately, Xbox 360/PS3 will not be seeing these weapons due to the nature of the games hardware capacity on old-gen consoles. One more thing to keep in mind is the fact that you need to unlock a variant of the weapon in a drop in order to unlock to base version of the weapon. This means in order to be able to use either of them at all, you need to find it in a drop.
You can check out the official descriptions of the weapons, as well as gameplay of them in the spoilers below.
"The classic 1911 pistol returns as the first new secondary to be introduced to Advanced Warfare. This pistol has stood the test of time, being used as the standard issue firearm by the U.S. Armed Forces from 1911 to 1986. It's known for having low recoil and works great at a close to medium range. The 1911 has four variants, and the base weapon is unlocked for Create a Class once one of the variants has been unlocked via Supply Drops or Advanced Supply Drops. It's a great secondary weapon to have on-hand when you run out of bullets in your primary."
"The MP40 is a fully automatic sub-machine gun. It has a steady rate of fire which can be used in bursts to maintain accuracy at distances. It's a great weapon to use for rushing objectives like Capture the Flag or Uplink. The MP40 features four variants, with the base weapon being unlocked once one of the variants has been unlocked via Supply Drops or Advanced Supply Drops."
Any of you tried any of these weapons yet? Let us know what you think!