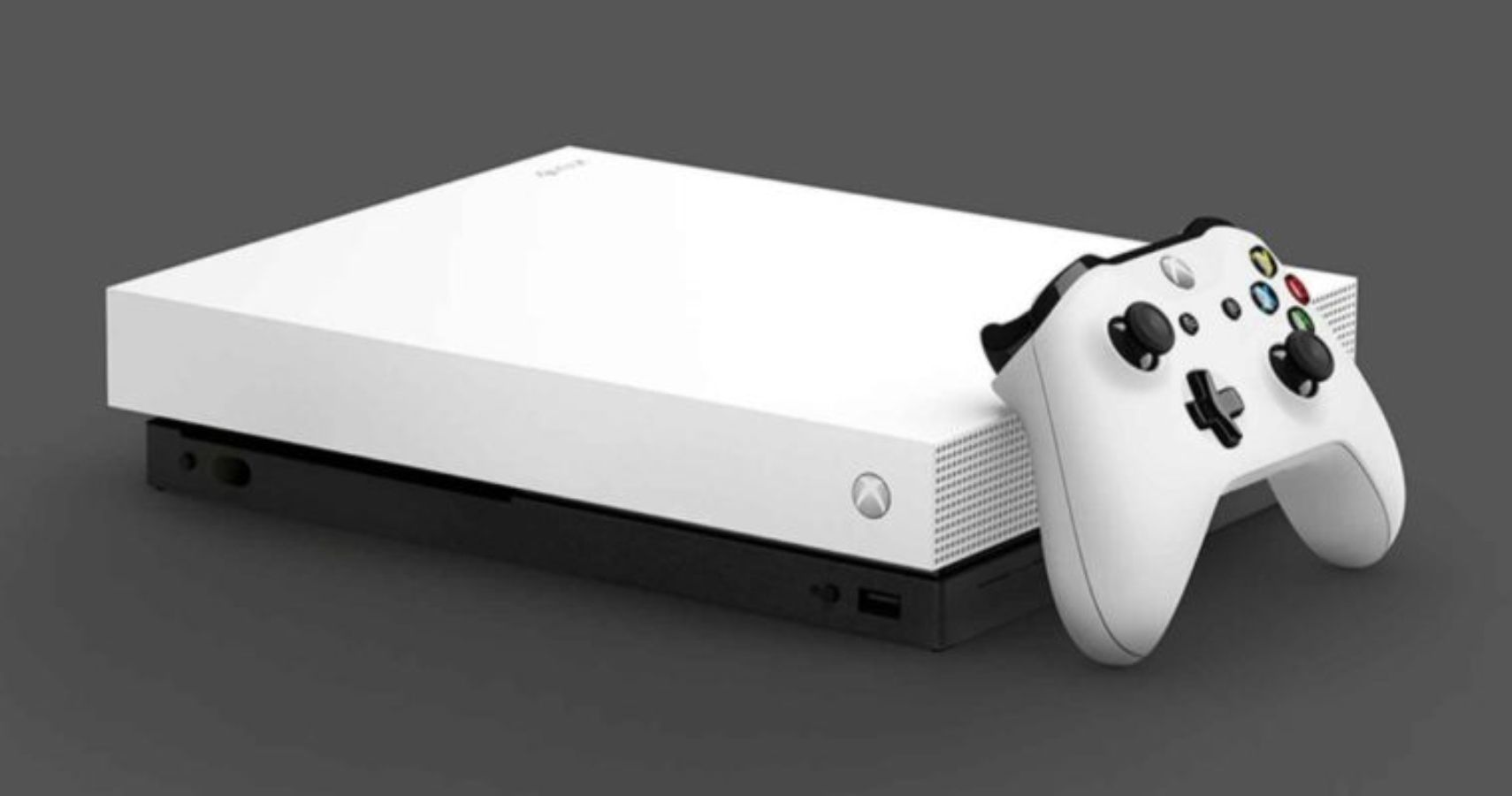 With about three months to go before E3 2019, Xbox rumours are already heating up. Microsoft has previously confirmed it is working on multiple new Xbox consoles, and now its plans appear to be coming into focus.
There is a lot of information out there about the new Xbox consoles, so we're rounding up all the rumours and speculation into this post to help make sense of the matter. Bear in mind that while the sources for each rumour have proven reliable in the past, everything mentioned here is unconfirmed, and as with all rumours, plans are subject to change. Microsoft's official stance is that it does not comment on rumour and speculation. With that caveat out of the way...
A Disc-Free Xbox One
Rumoured for many months already, and discussed at a conceptual level for years, the disc-free Xbox One is said to be codenamed Xbox Maverick. Windows Central reported that this system will actually be called "Xbox One S All-Digital Edition." Pre-orders for the console are said to open in April, with the console then scheduled to go on sale in May around the world.
This would be a first for Microsoft, as all previous Xbox hardware featured a disc drive. Pricing hasn't been mentioned in any reports yet, but dropping the disc drive would presumably lower the cost. In fact, it's believed that the disc-free Xbox One would be the cheapest Xbox One offering to date.
Also unclear at this stage is if the disc-free Xbox One would contain any further changes to the Xbox One hardware or design. WindowsCentral posted a Photoshopped mock-up of what an Xbox One without a disc drive might look like--check it out here.
The video game industry, like film, TV, and music before it, is increasingly trending toward the digital space and away from physical media. Microsoft itself is pushing further into the digital space with its new streaming service Project xCloud, which according to Brad Sams, will enter a trial phase later this year. Another Microsoft digital subscription service, Xbox Game Pass, is proving popular already with millions of people signing up. Its clear digital is important to Microsoft going forward.
All-digital hardware has been attempted before, as Sony launched the PSP Go back in 2009--but it failed. It's been a decade since that trial, and general internet availability and speed has improved since then. Still, there are parts of the world where access to the internet is limited, and other places where speeds are less-than-great (hello, Australia!). For those who prefer physical media, Microsoft will continue to make Xbox One consoles with disc-drives, so there is no need to worry about an all-digital future taking over, at least not yet.
The Disc-To-Digital Program
A key component of Microsoft's disc-free Xbox One plans is what's being referred to as the "disc-to-digital" program. As part of this, users can trade in their console discs for a digital license for games they already own. The disc-to-digital program is expected to launch around the same time as the disc-free Xbox One console's release in May, or a little earlier, Brad Sams reported. People will be able to visit the Microsoft Store and Best Buy (and potentially others) to swap their discs for digital licenses. The specifics about how this will work remain unclear.
Retailers might not be very happy about this news, especially GameStop, whose "buy-sell-trade" business model hinges on physical media remaining popular. But no one is asking players to care about the health of retailers; if this is the way the business is going, retailers will need to adapt. For its part, GameStop has diversified its offerings substantially of late to focus more on digital options and physical content like Funko Pop! toys and other physical merchandise.
A New Fortnite Xbox One
Microsoft already offers an Xbox One hardware bundle that comes with Fortnite and various extras, but the company is reportedly planning to push even further on the battle royale game. A new Xbox One featuring a design inspired by Fortnite is coming, according to Windows Central, though the site didn't have any further information about the system and if it will be an Xbox One S, X, or the new disc-free edition.
Next-Gen Consoles
Microsoft is reportedly working on multiple new Xbox One consoles in development under the "Scarlett" umbrella. The first is codenamed
Anaconda
, according to Brad Sams, and is the new high-power Xbox One to follow the Xbox One X that was released in November 2017. The other, codenamed
Lockhart
, is said to be the budget-oriented offering.
At E3 2019 in June, Microsoft is expected to discuss both of these consoles, though it's unclear at this stage how deep into specifics the company plans to get. Sams reported that Microsoft's idea with the new consoles is to "make next-gen gaming available to wider audiences with a lower price of entry." The consoles aren't expected to be released until Fall 2020.
According to Sams, the Anaconda console will be priced in line with Sony's PlayStation 5 (which is rumoured but hasn't been announced yet), while Lockhart will cost less.
Specs are unknown for Anaconda and Lockhart, but Sams reported that both consoles will have solid-state storage, which would be a big improvement over the Xbox One X's hard disk drive.
Sams speculates that specs for the new wave of consoles are expected to not be as important as it was with the Xbox One X, a console that can already deliver 4K/60FPS gaming. He suggests that the most significant change will be on the software side. A new technology called GameCore OS will enable Microsoft to bring Xbox One and PC development more closely together, apparently.
According to Sams, Microsoft may attempt to launch GameCore OS for all of the Xbox One family of devices. However, it's unknown at this stage if this will unlock what Sams called "true forward and backwards compatibility."
With Microsoft said to be pushing more into the PC development space (Halo Infinite is coming to Xbox One and PC), some may question if this will hurt Microsoft's ability to sell consoles. As Sams reminds us, games--not hardware--is where the money is made. The margin profile of game sales is known to be better than hardware, where margins are low or even non-existent in some cases in history.
"That is not where you make money," Phil Spencer told GeekWire about consoles. "The business inside of games is really selling games, and selling access to games and content in means like that is the fundamental business. So if you open it up, the more often people can play, the more they're enjoying the art form. It increases the size of the business."
xCloud And Game Pass
One of Microsoft's most exciting and ambitious new technologies is the game-streaming service Project xCloud. Microsoft's long-term vision is to bring Xbox to every Internet-connected screen, whether that be a TV, console, or the mobile phone in your pocket. According to Sams, xCloud--or whatever name Microsoft decides to give it--will enter the trial phase later this year. Xbox boss Phil Spencer has said that during his holiday travels at the end of 2018, he was already playing streaming games on his phone as he jetted around, so it's definitely coming together.
Nothing is certain yet, but it's not hard to envision a future where Xbox Game Pass becomes an xCloud offering where people can stream games wherever they are, on whatever device they have. That's exciting to think about. But there are numerous unanswered questions like whether the service will be available worldwide (PlayStation Now is notably unavailable in Australia), and if it will require Xbox Live Gold or not. Whatever the case, it may finally be time that streaming takes off, as Microsoft is joined by the likes of Google, Amazon, Verizon, and other tech juggernauts in having announced or rumoured to have game-streaming services in the pipeline.
Next Steps
Brad Sams reports that Microsoft will begin to discuss its next-generation plans with partners at the Game Developers Conference later this month in San Francisco. The show is aimed at developers and business executives, so whether or not these discussions take place behind-closed-doors or publicly remains to be seen. At the consumer-facing E3 show in June, the company will reportedly formally unveil the new consoles and discuss its plans at a high level.
What are you hoping to see from Microsoft for the next generation of consoles? Let us know in the comments below!
Source: GameSpot