Eric Neustadter is the man with the world's very first Xbox gamertag that was originally made in 2002, but also one of the few people that can say he's played a major role in creating Xbox Live and shaping it into what it is today. Over his eighteen year stretch at Microsoft, and fourteen and a half years working with the Xbox team, Neustadter has held numerous positions while leaving a big mark on the timeline of the platform's lifespan. Those positions being:​
Architect, Xbox Live Operations
Gaming Ninja, Xbox Live Operations
Director of Architecture, Xbox Live Operations
Operations Manager, Xbox Live Operations
Operations Program Manager, Xbox Live Operations
Senior Consultant, Microsoft Consulting Services
Consultant, Microsoft Consulting Services
In the midst of Eric's departure there has been a number of layoffs from Microsoft that has affected a multitude of Microsoft workers, reportedly around one thousand to be exact. It is not known if these layoffs are connected to Neustadter's exit from the company, or if he has decided to leave the company on his own. All that has been left by Eric was a tweet which stated his departure. While his gamertag, which is simply the letter 'e,' and all of the work he's put into Xbox Live over the past decade and a half will be embedded into the online gaming service for many years to come.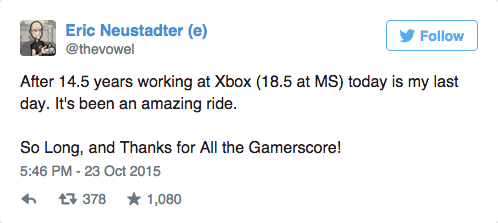 Credit to Kankuro for the topic!

Source