​
Well, this is probably not the news most were expecting to hear, considering that
No Man's Sky
was set for release next month. However, since last night there have been multiple reports flowing in from Kotaku to TechRadar, all stating that this title has been pushed back for the second time, and may not release now until July or August. Starting last night with a report from Kotaku stating that a reliable source had informed them of the delay, along with a second source from a Gamestop worker who said that they had received marketing materials for
No Man's Sky
that featured the June 21st release date, only to be informed shortly thereafter that the release date was no longer correct and that they should cover it with a 'Coming Soon' label. The supposed image of this can be seen below.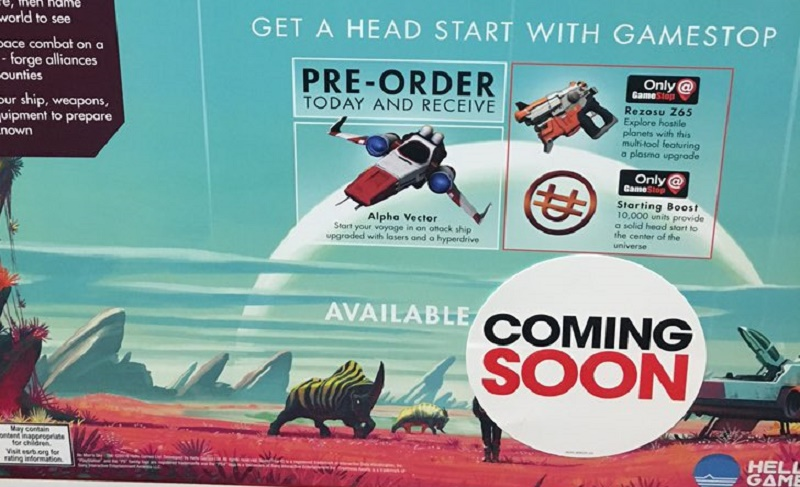 ​
Following the Kotaku reports, TechRadar has also backed these claims with confirmation from two sources of their own, one of which states that discussions of delaying the game had taken place, but to what exact time frame was unclear. The second source comes from UK retailer Game, whose system was updated to inform staff that the title had been pushed back. Amidst all of this neither Sony nor the devs at Hello Games have confirmed or denied any of this information. So for now, the best we can do is keep our eyes peeled for any official statements. All in all this game has been hyped up beyond belief, and is expected to be incredibly massive in terms of exploration. So even though this wouldn't be the first delay for
No Man's Sky
, a delay for a game of this magnitude is not surprising, and could ultimately be the turning point that makes it a blockbuster hit.
UPDATE -
After all the rumors that poured in over the past few days, Hello Games' founder Sean Murray has now confirmed the second delay of this game. Stating that
No Man's Sky
is coming along well, but some key moments needed some more revising so that the game as a whole could be up to the dev's high set of standards. Along with this he also said, "The universe of No Man's Sky is incredibly vast. More than you can imagine. This is a type of game that hasn't been attempted before, by a smaller team than anyone would expect, under an intense amount of expectation."
No Man's Sky
was originally set to release onto PlayStation 4 and PC on June 21st. Now, however, it will hit shelves on August 9th in North America, August 10th in Europe, and August 12th in the UK.
Kotaku
|
TechRadar
PlayStation Blog