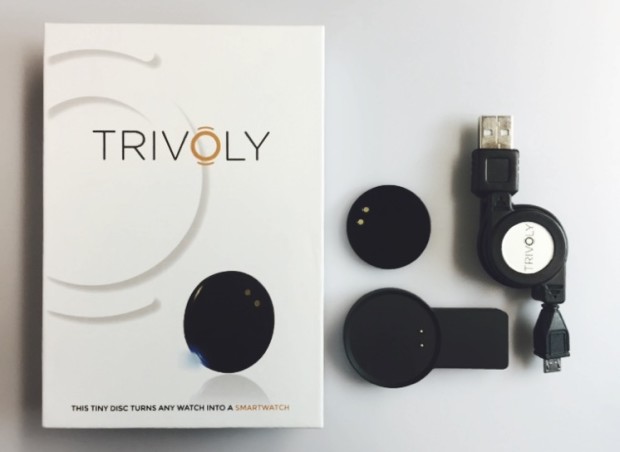 Smartwatches seem to be the biggest rage these days, with companies like Apple and Samsung investing loads of time and effort into developing the most ideal and useful smartwatch the world has ever seen. One common problem that many people who intend to purchase a smartwatch face is that these watches are just so darn expensive, and it doesn't make a whole lot of sense if you already have a bunch of other fancy watches since you'll probably never wear them as much as you do know. There is one solution that is currently in the works called Trivoly, a small little disc that fits in under your existing watch and adds some of the basic features that you'd find in a smartwatch, to your pre-existing watch.
Now before I get any deeper into this topic, I'd like to stress the fact that this isn't a full smartwatch experience. You will not be getting things like a touchscreen, custom OS and apps, in fact there is no screen at all. What you will get with the Trivoly, however, are the abilities to receive vibration and colour coded notifications from texts and phone calls, fitness tracking capabilities, remote music control and remote camera control.
So how does this all work? How am I supposed to get all these perks attached to my regular watch? Good question. The Trivoly is essentially a very small disk that clamps onto the bottom of your watch. Then all you do is put on your watch like normal and you're off to the races. This is a very viable solution because the Trivoly itself is only about 3mm thick, so it won't be super noticeable. That little disc is able to output different coloured lights for different notifications and also vibrate, both of which I mentioned above. It has roughly a 4 day battery life which is extremely decent considering it's size. The Trivoly works with the iPhone 5 on iOS 8 or above and it will work with any Android phone running Android 4.4 or higher. As I also mentioned earlier, the Trivoly can act as an remote music controller. For example, if you push the top or the bottom of your watch, the volume will go up or down and if you push left or right, the song will skip forward or back. The same can be said about the camera controller. You can remotely take a picture by pushing your watch from up to 25 feet away.
You may be wondering, why would I get this over any other smartwatch? I mean this costs around the same as some of the Fitbit watches, so why not get one of those? Well the answer is simple, this doesn't take away from who you are and what your personality is like. The other smartwatches all have that same look to them, and depending on your outfit, they go from being a good looking accessory to an ugly watch that you'll have to live with. The Trivoly can work with basically any watch made, so you'll be able to stick with who you are and your own style.
Their are two version of the Trivoly, the Trivoly One and Trivoly Two. The only difference between the two is that the Trivoly Two has a full fitness tracker built in with an optical heart rate sensor. The Trivoly One will retail for about $120 USD while the Trivoly Two will retail for $150 USD. You can pick up either one of these for a discounted price through the Indiegogo page. What do you think? Would you purchase this over a regular smartwatch? Leave your thoughts below!
Source