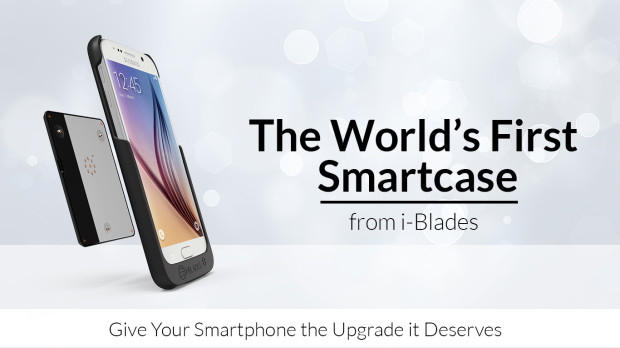 ​
In this day and age, technology is getting increasingly "smarter." We not only have smartphones, but smart light bulbs, smart fridges, smart televisions, smart watches, and so many more. These devices improve our lives and make small everyday tasks easy to accomplish. It's rare a person has their smartphone shut off nowadays. Everywhere you look someone's got their head buried in whatever they're doing on their smartphone. While we enjoy these devices, we must accept their limits when it comes to memory and battery life. Sure, you could purchase an external battery pack or some extra SD cards, but why do that when you can have both attached to your phone case without having to carry extra cords or memory cards?
Introducing the i-BLADES Smartcase, an innovative smartphone case that promises to take your smartphone to the next level by delivering a host of new features, allowing it to do things you couldn't achieve with the average stock smartphone. The i-BLADES Smartcase will allow users to upgrade their smartphone's capabilities by using a modular system on the case itself, which lets users add different tweaks using detachable add-ons called Smartblades. With the i-Blades Smartcase, you'll be able to expand your smartphone's daily battery life from anywhere from 2 times to 10 times the normal amount. This virtually erases any need for a charger or any external battery packs. This is just the beginning of the i-Blades' many features.
​
The i-BLADES Smartcase will also virtually erase all limits you have on your smartphone's memory. With the case, you can easily increase your phone's memory from 64GB to 1 TB, which is something your average mobile users won't need. This is perfect for media buffs who have thousands of songs and hundreds of movies and TV shows they'd like to take with them on the go. In the near future, the i-BLADES Smartcase will feature Smartblades that will allow users to watch live TV, manage their health on the go, manage payments and even remotely control other electronic devices they own.
i-BLADES is easy to use, and the process of installing and removing custom Smartblades is quite a simple process. The i-BLADES Smartcase itself will come with an MCU embedded in the case which will automatically detect the type of Smartblade a user has attached to the case. This allows for your phone to quickly adjust itself to the new features. Smartblades attach instantly via the case's copper-based magnetic array. You won't need to slide or plug anything in. If you'd like to stack Smartblades, you can. With i-BLADES, simple everyday problems with smartphones such as low batteries, or low memory are virtually erased. It's an easy, low-profile solution to advancing and improving your overall smartphone experience.
The i-BLADES Smartcase will initially launch in May 2016 for the Samsung Galaxy S4, Samsung Galaxy S6 and iPhone if the funding goals are met. Additional models will be revealed soon, with more changes and designs to the Smartcase and Smartblades as well. If you'd like to know more about the i-BLADES Smartcase and the Indiegogo campaign, check out the link below.
Indiegogo