​
Back in September of last year, a South African retailer leaked some
information
for a 2K games bundle called
The BioShock Collection
. The release date back then was listed as November 27th, 2015, though that was obviously false. With it allegedly releasing on PC, PS4 and Xbox One, it would be the first time seeing the beloved
BioShock
series on the current generation of consoles; at least without the use of backwards-compatibility. Five months later, on the 20th of this month,
The
BioShock Collection
has been spotted on The Brazil Advisory Rating Board website, now pointing to a possible 2016
release
.​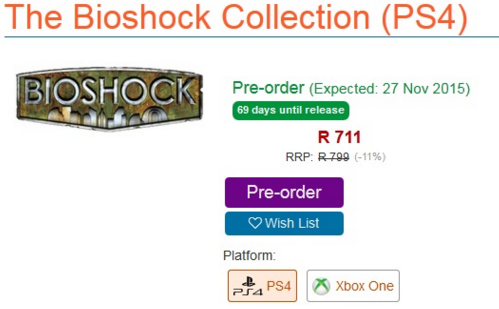 ​
This all leads many questions to be raised, could it just be a 1080p update for the new consoles, or maybe a full remaster? One thing is for certain, many fans would be very excited to see an official announcement sometime soon. With the assumption of it including
BioShock
,
BioShock
: 2,
BioShock: Infinite
and as well as all the respective DLC, it could make for a very nice bundle in the end.
With not a single comment from 2K, we can all take this with a grain of salt for the time being. It is worth noting though that 2K has released similar bundles in the past, such as the recent
Borderlands
:
The Handsome Collection.
Perhaps we may see a reveal this year, it could be very successful and in 2K's best interest at this point. Maybe the time has finally come for the current-gen platforms to venture into Rapture and Columbia.
Thanks to
televisedfool
for submitting the topic.