​
Hitman is coming soon, and along with it a some massive changes to the game itself. With the Beta less than a month away, Square Enix has revealed that they're going to be making quite a few changes to Hitman before the game releases on March 11th. Everyone isn't a fan of what they've done, and you're about to find out why.
​
One major change coming to the upcoming Hitman game has the gaming community split as to whether or not the choice will be beneficial to the players. Square Enix's heavily deliberated decision to turn Hitman into an "episodic game experience" spanned from their promise to release a quality game to their fans. The were already aware some gamers would not favor their decision, but the team at Square Enix truly believes this is the best possible path for the game to travel down. One of the main gripes people have over this decision is the fact that they'd like to play the game in its entirety as soon as they receive it. If you've ever played a game by Telltale, you should know the pain of having to wait for the next "episode" to release, especially when you're a huge fan of the game. We'll see how well Square Enix's choice play's out after the game releases.
Square Enix took the steps to thoroughly explain their decision and their plan as to how it's all going to work, and you know what? It actually sounds pretty good. They want to release a game that's going to grow and progress as time goes on. When Hitman initially releases in March, this will lay the base foundation for the game and all future expansions, including future Hitman games in the series. Due to the episodic nature of the game, Square Enix believes this will give them the advantage over other titles when it comes to responding to player feedback and making tweaks to the game.
At launch, players will get access to the Prologue and the Paris location. In April, players will be able to purchase the Italy location. Then in May, players can purchase the Morocco location. Releasing the game in an episodic format that not only allows players to purchase what they want, but also allows Square Enix to make tweaks to upcoming content based on player feedback and data honestly isn't that bad of a thing. After May, you can expect to see the Thailand, US, and last but not least, the conclusion to the Season, Japan, added to the game. In addition to all of this, Square Enix will also be releasing weekly live events and other unrevealed content to ensure players will always have something to do while waiting for the next episode.
The Intro Pack, which is the Prologue and Paris location, will be priced at $15. Every other episode after the base release will only be a mere $10. If you decide you like what you see and want everything after buying the Intro Pack, you can upgrade your game using the Upgrade Pack for $50. This will give you access to every single episode as soon as they release, and will ensure you don't miss out on any bonus content or in-game events.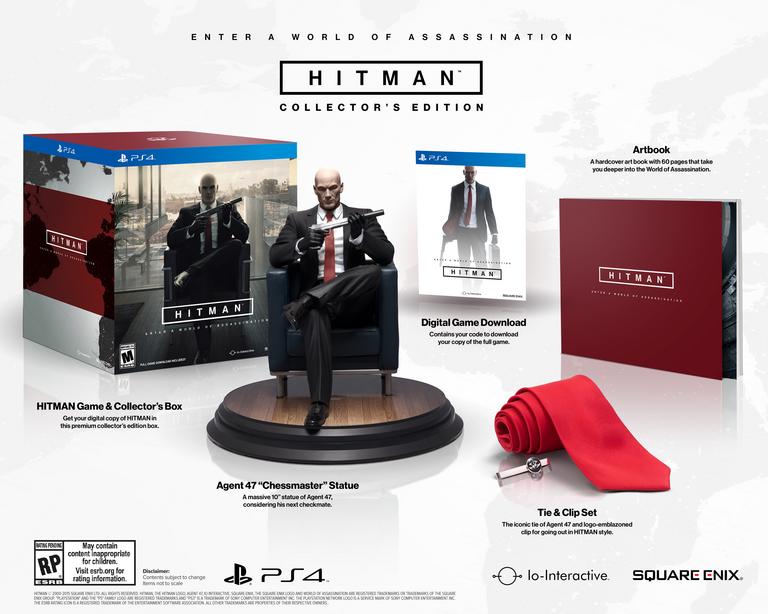 You can also pre-order the Hitman Collector's Edition as of today. You can head on over to the Square Enix Store at the link I'll provide below if you wish to purchase it. The Collector's Edition will come with the following content listed below:
HITMAN Digital Game Download (Full Experience)
10" Agent 47 "Chessmaster" Statue
Hardcover 60-page art book, curated by Art Director, Jonathan Rowe
Agent 47 Iconic red tie and clip set
Premium Collector's Edition packaging (aka the box)
You can pre-order the game right now from the North American Square Enix Store for only $139.99. The European version will be priced at €139.99 / £109.99, and is currently not up yet, but will be available soon. Pre-ordering the Collector's Edition will guarantee your access to the HITMAN Beta, starting on February 12th for PS4 and then a week later on PC.
Hitman releases on March 11, 2016, for PlayStation 4, Xbox One, and PC.
Hitman Update
Collector's Edition
Pre-Order