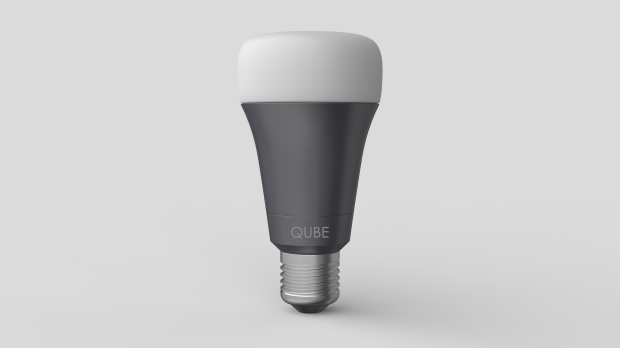 The number of people converting their humble abodes into smart homes is on the rise. Smart homes offer people easier lives, and the ability to make precise tweaks to certain areas in their homes. You can control the thermostat from your phone to have the perfect temperature for when you arrive home. You can even verbally command your audio system to play the perfect playlist. These are some of the most basic features of having a fully functional smart home. However, buying all of these devices that contribute towards the perfect customized smart home can be quite hard on the wallet. The idea behind Qube began with the idea of allowing everyday people like you and me to take the first affordable step towards building a smart home. No home is complete without lights, and this is where the Qube comes in, an affordable solution to your first smart light bulb setup for your future smart home.
Affordability is an important selling point for Qube. Just to give you an example on most current smart bulbs; If you currently have around 10 light bulbs in use at your home, you'd be paying around $500 to replace every single one. Why? Well with your average Wi-Fi enabled Multi-Color LED Smart Bulb starting at $50 for a single bulb, creating a smart home where every light bulb is customizable will be very expensive. Qube begins at only $19, so you'll only be paying around $190 for a 10 bulb setup. Making Qube autonomous will be quick and easy, and will not require you to use a Hub to do so. You can make your Qube setup to sense whenever you're nearby via any Bluetooth Low-Energy device you're wearing. You'll be able to do things such as have certain bulbs change to a specific color or brightness level when you enter and exit a room. Every Qube bulb in your home acts as its own hub, and will communicate with all of the other Qubes placed around your home.
​
Qube will come packed with many different features. It doesn't begin and end with simply customized lighting. Qube Sense, the feature that allows you to create smooth autonomous lighting, will also let you alert any family members in your home when you've arrived by sending them a notification after a bulb detects your presence via your BLE device. You can also create preset mood lights to suit your specific lighting needs. Let's say you quickly need to set the mood right for date night, or maybe Netflix and chill got a little too intense. Qube Mood has you covered for whatever situation may arise. You'll have access to a full spectrum of 16 million different hues to create the perfect lighting preset you need.
​
Qube Notifications will allow users to use their Qube bulbs in tandem with their Smartphones. You'll be able to make your Qube's notify you whenever you receive a text or call on you phone by allowing the bulbs to change colors or flash certain patterns. Using Qube's IFTTT compatibility, you further customize your notifications, and can do things like having your Qube setup alert you about today's weather when you're near the bulb closest to the front door. Whatever you need to be notified about, Qube Notifications will have your back.
Every Qube smart bulb is designed to last users up to 27 years per bulb. That's up to 50,000 hours of use. Qube will also help users go "green" by tracking usage patterns and will automatically assist users in automating energy saving in their homes by dimming or automatically turning off all of the lights when the Qube setup detects no one in the home. You can also set specific times you want your Qube's to automatically shut down, saving you cash on your electric bill. Overall, Qube is a great, low-budget solution and a great start to begin your first smart home. Qubes are expected to start shipping sometime in June of 2016. Make sure you check out the Indiegogo page for extra details on the Qube device!
Indiegogo