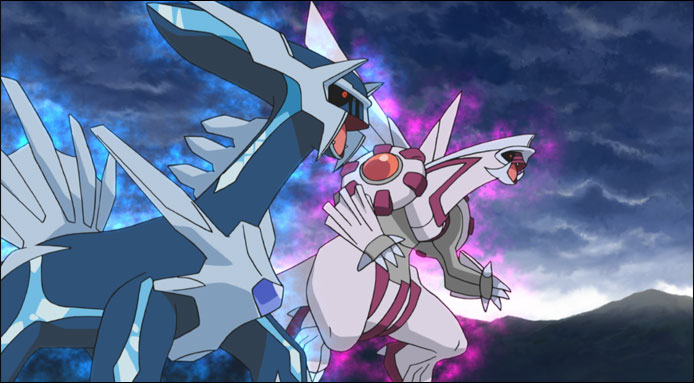 The Pokemon Company has a ton of giveaways lined up for Pokemon Ultra Sun and Ultra Moon this year as part of its Year of Legendary Pokemon, which will give players a chance to receive a free Legendary each month in 2018. That starts today, February 2, with the first pair of free Legendaries, Dialga and Palkia.
From now until February 28, players can pick up a download code for Space and Time Pokemon from a participating GameStop location in the US; UK residents will be able to obtain a code from Game stores during the same time frame. The code can be redeemed in either Ultra Sun, Ultra Moon, or the original Sun and Moon versions, but the Pokemon you receive will depend will depend on which game you have. You can see which Pokemon you can get and their move-set below:
Pokemon Ultra Sun / Pokemon Sun
Palkia
Spacial Rend
Aura Sphere
Draco Meteor
Hyrdo Pump
Pokemon Ultra Moon / Pokemon Moon
Dialga
Roar of Time
Aura Sphere
Draco Meteor
Flash Cannon
To claim your Pokemon, select Mystery Gift from the games' main menu and choose the option to receive your gift via a code/password. Input the code you received when prompted and the game will download your Legendary. You'll then be able to pick it up from the deliveryman waiting inside any Pokemon Center.
The Pokemon Company will continue offering new Legendary Pokemon for free through November; next month, players will be able to get another pair of Legendaries from the Sinnoh region, Regigigas and Heatran, while Entei and Raikou from Pokemon Gold and Silver will be the Legendaries on offer in April.
In addition to Dialga and Palkia, players still have a chance to add a couple of free Mythical Pokemon to their collections. You can read more about those in our roundup of every free Pokemon available in Ultra Sun and Ultra Moon right now. The series' third Gen 2 title, Pokemon Crystal, is also now available to purchase on the 3DS Eshop. Any Pokemon captured in that game can be transferred to the newer Ultra Sun and Ultra Moon versions.
Source: GameSpot