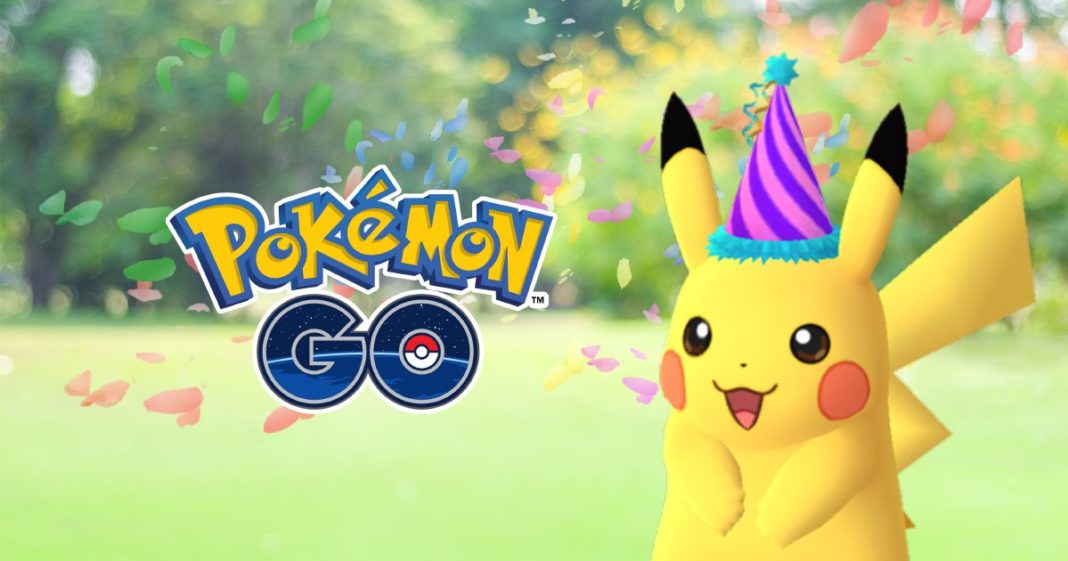 February 27 is Pokemon Day, and like last year, Niantic is celebrating the occasion by giving players a chance to capture a rare Pokemon in Pokemon Go. For the next few days, players will be able to encounter a special Pikachu, which will come with an exclusive move it cannot typically learn in the mobile game.
From now until 1 PM PT / 4 PM ET on February 28, players will have a chance to capture a Pikachu wearing a party hat, similar to the one available during last year's Pokemon Day celebration. This time around, however, the party hat Pikachu will know the move Present. In addition to that, players will earn triple the usual amount of Stardust they receive for each special Pikachu they capture.
Pokemon Day coincides with the anniversary of the original Pokemon Red and Green versions, which first released in Japan on February 27, 1996. In addition to the special Pikachu in Pokemon Go, The Pokemon Company is commemorating the occasion by releasing a new Pikachu Talk app for Amazon Alexa and Google Home, which allows users to ask Pikachu questions and hear it respond in its signature voice.
Additionally, The Pokemon Company is releasing Snapchat filters based on the three starter Pokemon from the Kanto region. Special merchandise is also being added to the Pokemon Center online store, including Legendary Pokemon pin sets and a new Charizard gallery figure that will kick off a special line of larger Pokemon figures.
While not specifically a part of the Pokemon Day celebration, Pokemon Ultra Sun, and Ultra Moon players can also still pick up a free download code for Dialga and Palkia, the first two Legendaries being distributed as part of the Year of Legendary Pokemon promotion. Meanwhile, Pokemon Go players have another chance to capture the Legendary Pokemon Groudon and Kyogre, while Rayquaza will appear in Raid Battles until March 16.
Source: GameSpot