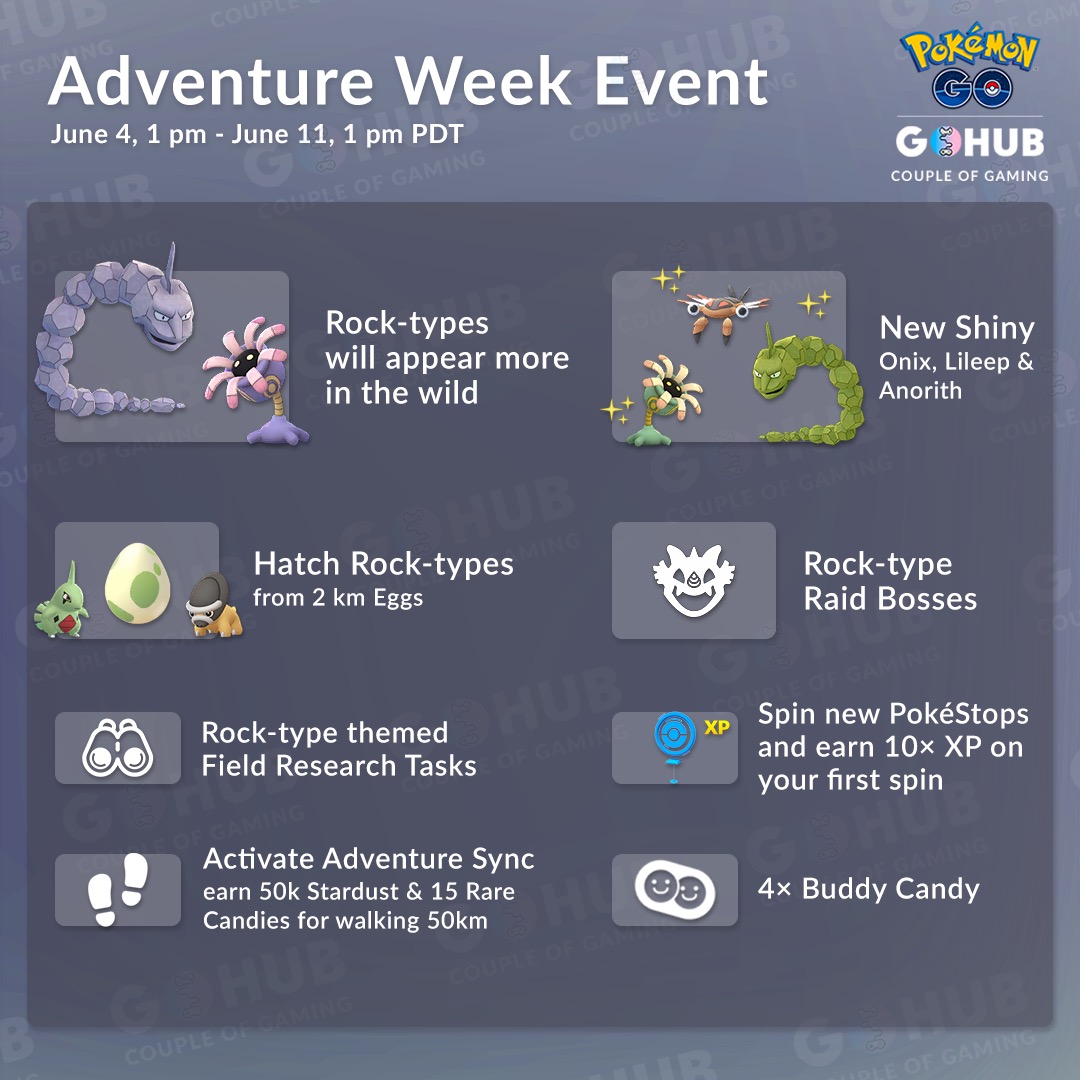 A new week-long event is kicking off soon in Pokemon Go. Niantic is holding another Adventure Week beginning Tuesday, June 4, and it'll give players a chance to earn extra rewards, catch some rare Rock-types, and even find a couple of new Shiny Pokemon.
During Adventure Week, Geodude, Rhyhorn, Omanyte, Aron, Lileep, Anorith, and other Rock Pokemon will appear in the wild much more frequently than normal. You'll also be able to hatch certain Rock-types--such as Onix, Larvitar, Lileep, Anorith, and Shieldon--from 2 km Eggs, and Onix and other Rock Pokemon will appear in Raid Battles. On top of that, you'll have your first chance to catch Shiny versions of Onix, Lileep, and Anorith.
In addition to increased Rock Pokemon spawns, you'll earn four times the usual amount of Buddy Candy during Adventure Week, as well as a whopping 10 times the usual amount of XP the first time you spin the Photo Disc at a new PokeStop. If you have Adventure Sync turned on, you'll also be able to earn 50,000 Stardust and 15 Rare Candies when you walk 50 km.
Finally, Niantic is distributing special Field Research tasks during Adventure Week. As usual, you'll be able to collect these tasks by spinning the Photo Disc at PokeStops. Adventure Week is scheduled to end at 1 PM PT / 4 PM ET / 9 PM BST on June 11.
Adventure Week isn't the only Pokemon Go event on the horizon. The game's next Community Day will take place on Saturday, June 8. The featured Pokemon this month will be Slakoth; not only will it appear in the wild more frequently than normal, it will also be able to learn an event-exclusive move if you manage to evolve it into its final form, Slaking, up to an hour after the event ends. The Legendary Pokemon Cresselia has also returned for a limited time.
The Pokemon Company held a press conference earlier this week, where it announced a handful of new Pokemon games and services, including a new app called Pokemon Sleep that aims to "turn sleep into entertainment." To coincide with the announcement, the Sleeping Pokemon Snorlax is spawning in the wild in Pokemon Go until June 3.
Source: GameSpot