Two years after it had officially launched with the PlayStation 4, Remote Play has continued to offer gamers the opportunity to play their PlayStation 4 games on a second screen. Up until now this feature has only been available to use if you also had a PS Vita or a certain smartphone that offered the application. Now it seems the online developer 'Twisted' will have competition by Sony themselves for his
unofficial Remote Play app for Windows
that was just announced a few days ago.
Yesterday it was officially confirmed by Sony's Worldwide Studios boss Shuhei Yoshida on Twitter that a Remote Play application is in the works to stream PS4 gameplay onto PC and Mac. Although it is now official, no exact timeframe for the release of this application was announced in Yoshida's message to fans. What Remote Play does is stream gameplay directly from your PS4 through a local Wi-Fi connection, and broadcasts it to your PS Vita or smartphone such as the Sony Xperia Z5. Any input commands go back to the console, allowing gamers to continue using their PlayStation 4 controllers while they play their games on a different screen.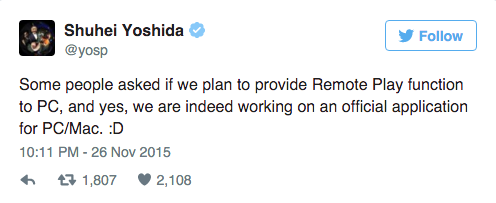 ​
What could this announcement mean for the future of the PlayStation 4? In a way, it will give the platform even more of a boost in the console wars. Which by means of graphical standards, the PS4 has the lead with most current games that have released on it boasting full 1080p HD, while the Xbox One only musters 900p. However, when you put the console battle to the side this expansion of the Remote Play application will open many doors for the PlayStation 4, allowing gamers to experience PS4 exclusives on their computers. This app will also push forward current gaming technology to even higher standards, and allow for additional advances down the road.
Source