The Overwatch free weekend is starting soon on Xbox One, PS4, and PC. If you want to play exactly when it starts, Blizzard has announced the specific start times for the major regions around the world. The free weekend begins at 11 AM PT on September 22nd, you can see how that translates to where you live in the image below.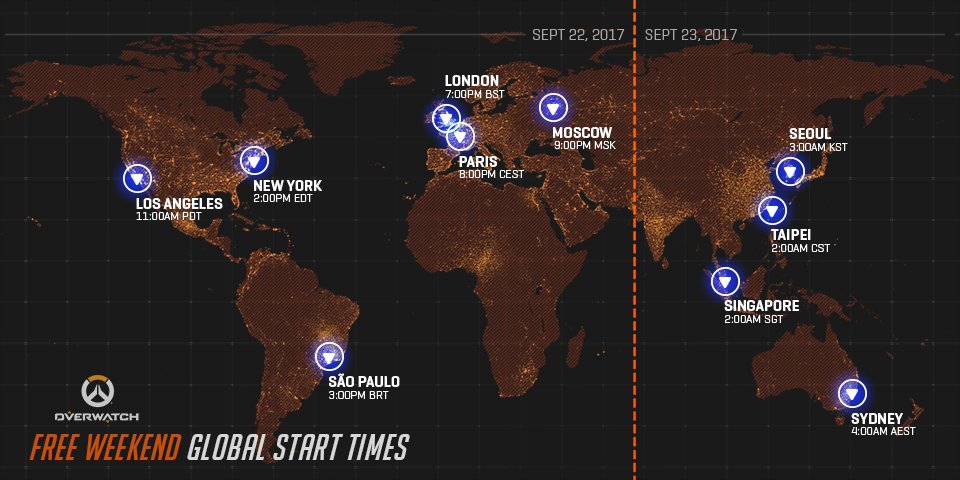 DON'T FORGET: You can play Overwatch FREE on PC, PlayStation 4, and Xbox One starting tomorrow at 11AM PT!
The Overwatch free weekend gives players access to all of the game's 25 heroes and 16 maps in a variety of modes, including Quick Play, Custom Games, and the Arcade. You'll also be able to earn Loot Boxes, level up, and unlock customization options; you can carry over all of this progress should you decide to purchase the game following its free trial.
PlayStation Plus and Xbox Live Gold are required on console. Those who intend to play on PC will need a Battle.net account; you can create an account for free here if you don't already have one. The free weekend ends on Sunday, September 25th at 11:59 PM PT.
In its newest Developer Update video, Blizzard talked more about the measures it is taking to stem the "rising tide of toxicity or bad behaviour in the game." Overwatch fans will also soon have a chance to pick up a beautiful art book for the game; Dark Horse Comics will release the voluminous Art of Overwatch on October 24th.
Source: GameSpot