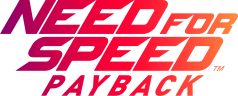 After sharing the first details about it last month, EA today officially announced Need for Speed: Payback, the newest entry in its long-running racing series. Need for Speed: Payback is due out on November 10 for PS4, Xbox One, and PC.
According to EA, it will have "intense heist missions, high stakes car battles, epic cop pursuits, and jaw dropping set pieces." The game is set in the fictional world of Fortune Valley, and you will drive as three different characters: Tyler, Mac, and Jess. In what EA and developer Ghost Games are calling a "gripping story of betrayal and revenge," players will try to take down an evil cartel that controls the city's underworld known as The House.
"Players will take on the roles of three distinct playable characters reunited by a quest for vengeance against The House, a nefarious cartel that rules the city's casinos, criminals and cops," it explained in a press release. "Each driver must take on races, missions and challenges to earn the respect of the Valley's underground and enter the ultimate race to take down The House." Check out the trailer above.
Car customisation is a big part of Payback, as EA claims the game has the "deepest" customisation ever in the series. Additionally, the press release mentions a betting system where players can wager funds on their performance and receive a nice payday--or lose it all.
People who pre-order Payback will get the Platinum Car Pack and access to five cars at launch, each of which is outfitted with "Platinum Blue Tire" smoke. The five cars are:
Nissan 350Z 2008
Chevrolet Camaro SS 1967
Dodge Charger R/T 1969
Ford F-150 Raptor 2016
Volkswagen Golf GTI Clubsport 2016
A Deluxe Edition, meanwhile, includes the Platinum Car Pack and other bonuses such as more customisation items (including a license plate and NOS colour), as well as in-game discounts and XP bonuses. Additionally, this version of the game unlocks three days early, starting on November 7.
If you're an EA/Origin Access subscriber, you can play Payback for 10 hours starting on November 2. Members save 10 percent on the game, bringing the price down to $54.
Unlike the 2015 reboot, Need for Speed: Payback does not require a constant internet connection. More details and footage of the racing game are expected to be divulged during EA's E3 events later this month.
Source: GameSpot