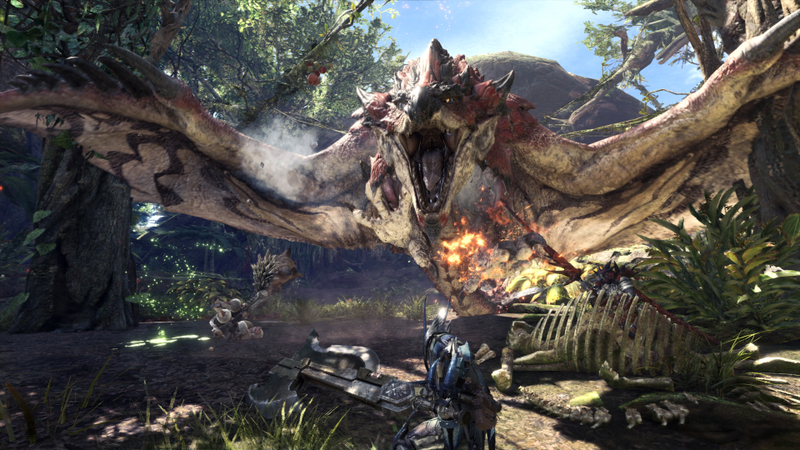 A new update has been released for Monster Hunter World on PlayStation 4 and Xbox One. It addresses some of the action game's lingering bugs related to quests and weapon stats, among other things. This is patch 3.02 on PS4 and 3.0.0.2 on Xbox One.
Specifically, the patch fixes a bug related to the Kulve Taroth Siege quest line the mission would not play out as intended in some cases. If you ran into this issue, you can go back to Astera and speak to the Admiral; this should trigger the Kulve Taroth Siege as intended.
Today's Monster Hunter World patch also fixes a problem with the Wyvern Ignition sword's "Impact" attack's value dropped to 240 instead of 510. Finally, the update addresses bugs related to First Wyverian such as weapon usage, how many monsters you've killed, and more.
You can see the full patch notes and Capcom's explanations for each below, as posted on the developer's blog.
In other Monster Hunter World news, Capcom has announced the second round of its Street Fighter crossover event. This time, players will be able to embark on a Challenge Quest to acquire a set of Sakura armor, and as before, it will only be available in the game for a limited time. You can get all of the important information about the event here in GameSpot's previous coverage.
Monster Hunter: World Patch Notes:
Kulve Taroth Quest Line
:
Fixed a bug where the Kulve Taroth Siege quest line would not progress correctly under certain conditions (specifically: if you speak to the Admiral out in the field when participating in another player's instance of the "A Wound and a Thirst" or similar quests, after having collected Kulve Taroth traces but BEFORE having spoken to him separately in Astera). Players who have encountered this bug already can return to Astera and speak with the Admiral, triggering the council scene, after which the Kulve Taroth Siege will become available.
Great Sword Wyvern Ignition "Impact"
:
Fixed a bug where the great sword Wyvern Ignition "Impact" saw its fire elemental attack value unintentionally reduced to 240. The value has been reset to 510. The armor skill "Free Element/Ammo Up" is still a requirement for unlocking the fire elemental attack of this weapon.
First Wyverian Statistics
:
Fixed some bugs in the data collection for the statistical summaries given to you by speaking to the First Wyverian (weapon usage, number of monsters slain, etc.). Data will be progressively reset starting on April 26. For the duration, the First Wyverian will not give out any statistical information, but this should not affect gameplay in any other way. Please note that the statistical data may be low in accuracy for a short time after the process has finished.
Source: GameSpot