Kingdom Hearts Unchained (KHUx) has been launched with its first major application update today. The free-to-play action RPG has already seen more than two million players download the game in North America alone and the developers show no signs of letting it slow down.
Since the game was released outside of Japan, the localization team has been hard at work doing two things: ensuring that the content from the Japanese version is accurately ported over and translated; and adjusting where necessary for western gamers. This includes adding many events and features that the Japanese version did not and still does not have. Today's application update comes after an official survey conducted by the development team, which served to give players a platform to provide feedback and suggest features they'd like to see in future updates. The patch notes can be seen below, but it does not fully cover everything added in this update.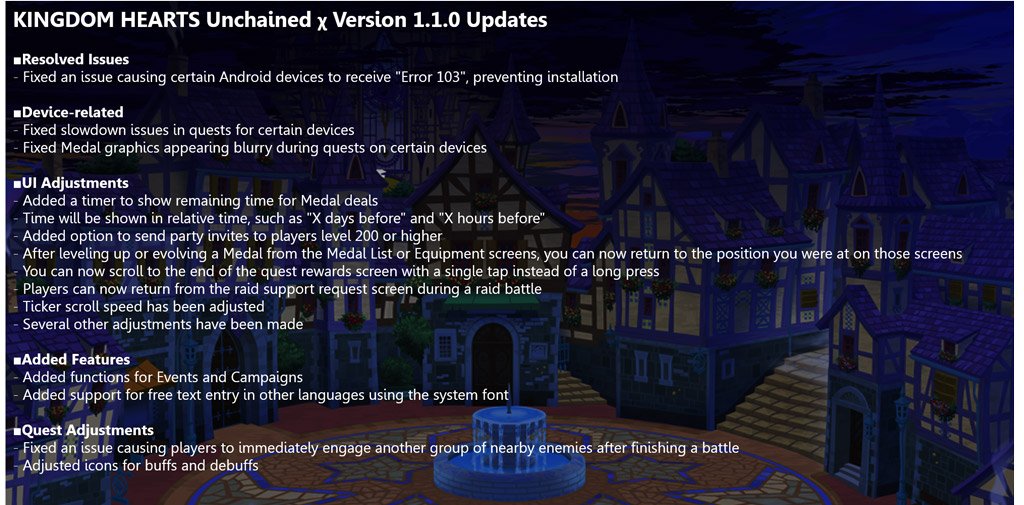 One important feature to note is that the game's performance and play speed has been improved significantly. Combos and swipe attacks are much easier to perform and they can be chained much more quickly than they could before. The UI improvements make it a lot easier to fight raid bosses and level medals as the game now remembers the previous menu that the player was on.
The main story quests were just added last week and the developers continue to release new content, events, and collectibles once a week to keep players interested as it catches up to the Japanese version. For reference, when the game released, it had 255 base medals to use and equip and as of this update, there are over 400 to earn from packs and events, with hundreds more waiting to be released.
Kingdom Hearts Unchained is a free-to-play action RPG available on all iOS and Android devices, as well as emulators on PC. With weekly content additions and events, there's no better time to start playing as the developers ramp up the speed to get the North American version up to par with its Japanese counterpart.