On October 28th, get ready for the release of YouTube Red, a brand new experience for YouTube users. YouTube Red aims to give members more choice when watching content, new ways to support their favorite channels, and last but not least, ad-free videos. In addition to this, there will be a brand new YouTube Music app that will allow users to go on a journey through different songs, deepening on the initial track or artist you choose when starting up the app. While some users aren't in favor of paying $9.99 a month for ad-free videos when Adblock could be used as a free alternative, others are excited for the rest of the new features being brought to YouTube.
At only $9.99 per month, YouTube Red members will be able to watch any video on YouTube without advertisements. The fun doesn't end there, you'll also be able to save videos to your phone or tablet to suit your offline entertainment needs. Mobile users will also be able to play videos in the background, allowing them to seamlessly browse multiple apps while still being able to enjoy their favorite content. Your membership will work on any device you use, just as long as you're signed in to your account. This will include YouTube's gaming app, and the upcoming Music app which will be announced soon.
The YouTube Music app is designed to make discovering, watching, and listening to music easier for the user. All you have to do is select any song or artist and the app will play songs from YouTube's music catalogs. As a bonus, YouTube Red will work with Google Play Music. If you subscribe to one, you will automatically be granted access to the other.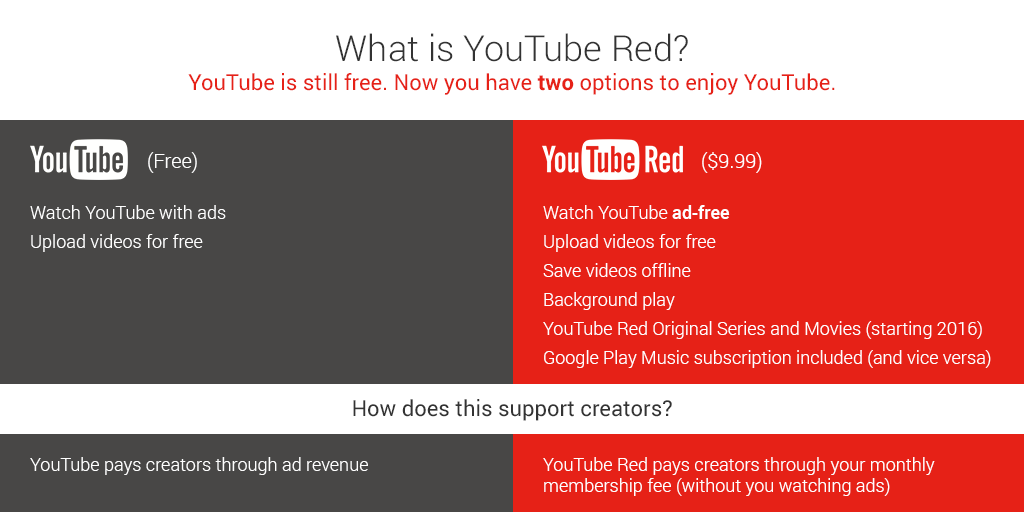 Starting early next year, YouTube Red will be updated with new features. Members will have access to new original shows and movies from some of the biggest names on YouTube. PewDiePie will be teaming up with the creator and executive producers of The Walking Dead in a new series titled: Scare PewDiePie. He'll be encountering terrifying situations inspired by his favorite video games in this brand new reality-adventure series. Fight of the Living Dead, will be a social experiment reality show where popular YouTubers will be trapped in a realistic zombie apocalypse. They'll need to sharpen their instincts and battle the elements in order to survive the harsh new world. This is just a taste of all the exciting content the team at YouTube has in store for YouTube Red members. You can check out the rest of the upcoming original series and movies in the spoiler below.
You'll be excited to know that viewers in the U.S. can try YouTube Red for free with a one month trial on October 28th, with YouTube Music coming soon. Check out the link at the bottom of the article to get access to your free trial.
Youtube Red Announcement
Youtube Red Trial
Thanks to
Adolfin
for submitting this topic!