​
After gameplay was released earlier in the week at EGX 2015, IO Interactive has announced more details on what will be included in the latest Hitman game, along with their plans for post-launch content. It was already known that the title would be available sometime in March, but has now been confirmed by the developers to release on March 11th, 2016. It goes without saying that this new entry in the series will be the most detail-oriented version of Agent 47 that we have seen since the franchise was created back in 2000. Utilizing almost everything in the environment around you in each individual mission will present quite a challenge, while also providing players with a unique sense of excitement when a multi-step hit is completed.
​
Along with the release information, the devs at IO Interactive have also revealed what will be included in the initial launch content. There will be three sandbox locations to start with across Paris, Sapienza, Italy and Marrakesh, Morrocco, which will feature six total campaign missions altogether. Following this, there will be one new location launched every month after March, up until June. All including new missions, weapons, and methods of taking out your targets. Furthermore when the game launches, there will be roughly eight hundred targets in Contracts Mode to work with, opening up the door to a wide range of unique possibilities.
For $59.99, or your regional equivalent of this price, you will get a secured spot in the
Hitman
beta, which will only be available to PlayStation 4 and PC owners. Also, you will get complete access to the world of Agent 47, with all planned additional content included. For those of you that just want to purchase the initial March content, the Intro Pack is available at a cost of $34.99. But keep in mind, buying the Intro Pack will cost you an extra $29.99 if you'd like to play the separate post-launch content.
Hitman
will be released on Xbox One, PlayStation 4, and PC. Leaving last generation consoles behind. Are you looking forward to the new
Hitman
game and all its features? Comment your thoughts and opinions below!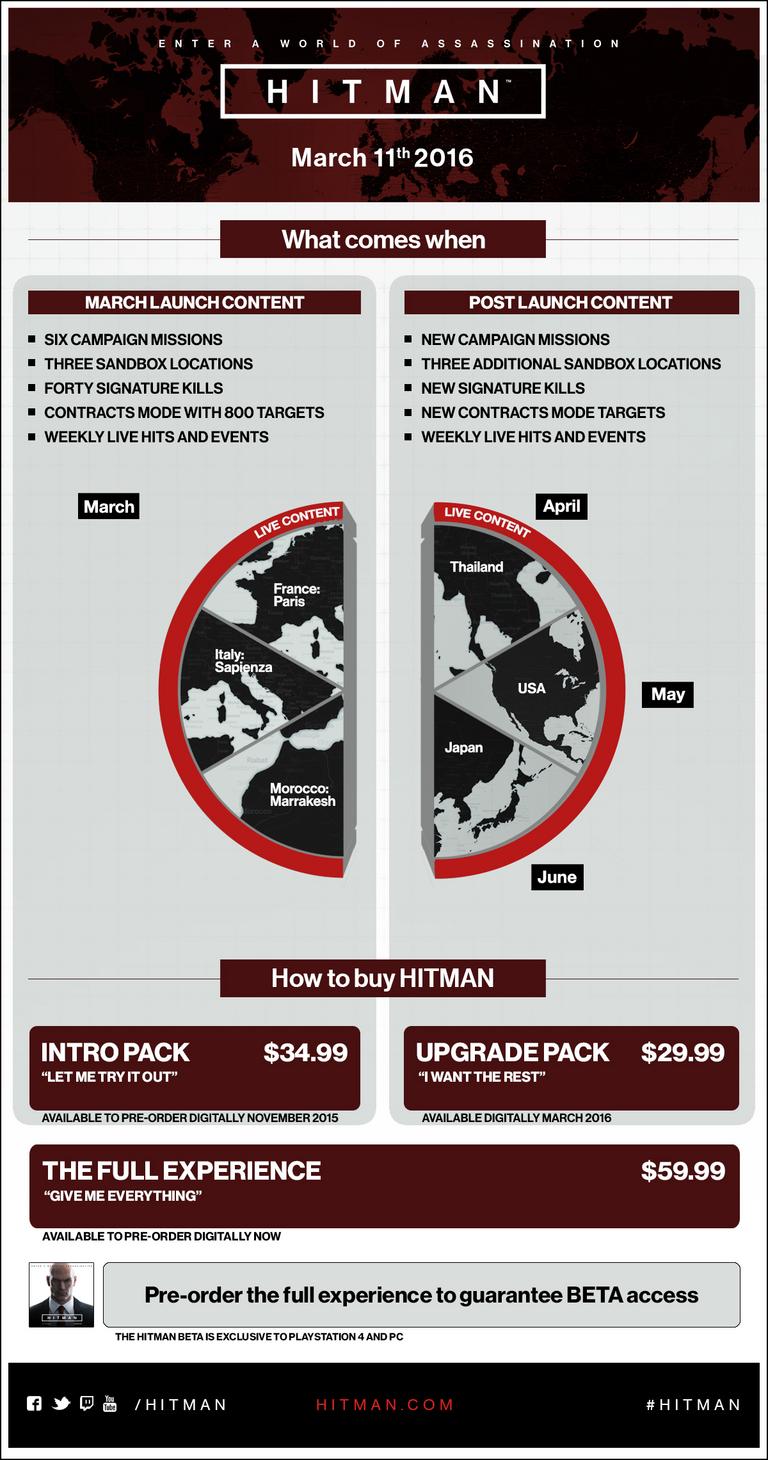 Hitman Website