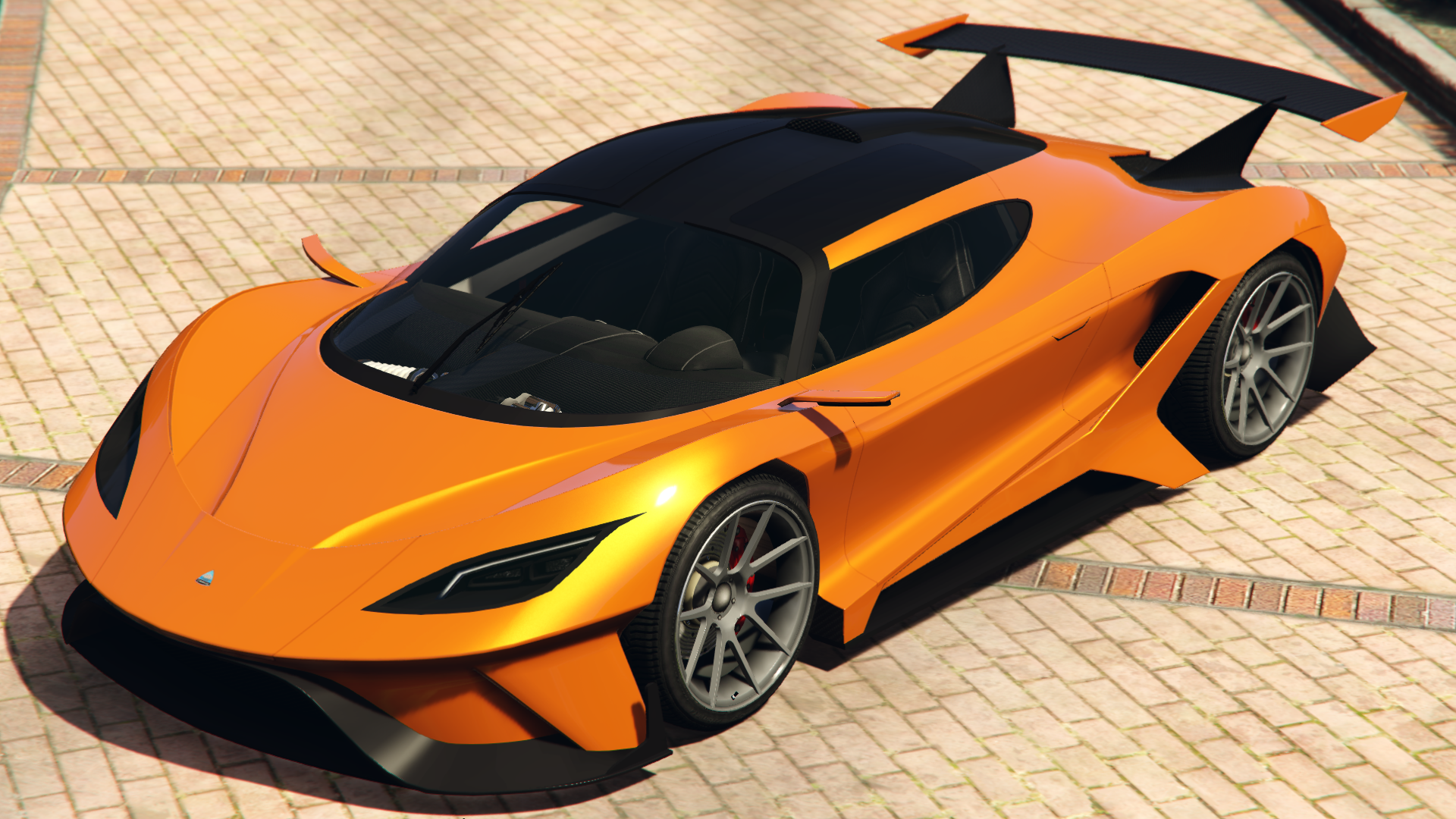 It's "Business Week" in GTA Online, and with that comes a number of bonuses, events, and sales--as well as free money. Yes, all you have to do is log in to GTA V's multiplayer mode by the end of May 14 and you'll get a gift of $250,000 worth of in-game currency. You'll get an extra $150,000 for each day you log in, through May 14, for a potential total of $1M.
Don't fret if you don't see your cash gift show up right away, as the money will go into your account between May 15 and May 21. Additionally, Rockstar is giving away the Vanilla Unicorn t-shirt and a black Ammu-Nation hat to everyone who logs in to GTA Online by May 14.
In other news, Rockstar is adding the Overflod Tyrant vehicle to GTA Online this week. "We're not sure who's more impressive: the team of engineers who've taken us as close as possible to installing a gear stick and a steering wheel in the front of a hurricane, or the team of lawyers who got it classified as road legal," reads a line from Rockstar's description.
The other new car is the Vapid Domination GTX--and it's a beast. "Half brute force, half pristine performance and all American. When you're looking to make shockwaves through the streets of Southern San Andreas, look no further," Rockstar said about it.
Rockstar also announced that all Contact missions, Rockstar-developed Stunt races, and Special Vehicle circuit challenges will offer GTA$ and RP bonuses this week. Additionally, this week's Premium Race is "Night Ride," while the weekly Time Trial is "Storm Drain."
As for the weekly sales, Rockstar is offering nice discounts on properties, vehicles, and upgrades, among other things. Here is a rundown of what's on sale this week, as rounded up by Rockstar on its blog:
PROPERTIES
Executive Offices – 50% off
Biker Clubhouses – 50% off
All Yachts & Yacht Modifications – 50% off
Bunkers – 40% off
Hangars – 40% off
Facilities – 30% off
ON THE GROUND
Mobile Operations Center – 30% off
Armored Kuruma – 30% off (Buy It Now & Trade Price)
Nagasaki Shotaro – 30% off (play a round of Deadline to unlock for purchase)
HVY Barrage – 30% off (Buy It Now & Trade Price)
Ocelot Ardent – 30% off
BF Dune FAV – 30% off (Buy It Now & Trade Price)
Bravado Half-Track – 30% off (Buy It Now & Trade Price)
BF Ramp Buggy – 30% off (Buy It Now & Trade Price)
Cheval Taipan – 30% off
Ocelot Pariah – 30% off
Pegassi Tempesta – 30% off
Grotti Cheetah – 30% off
Grotti Stinger – 30% off
Truffade Z-Type – 30% off
IN THE AIR
Mammoth Avenger – 30% off
FH-1 Hunter – 30% off (Buy It Now & Trade Price)
Buckingham Akula – 30% off (Buy It Now & Trade Price)
Western Company Seabreeze – 30% off (Buy It Now & Trade Price)
VEHICLE UPGRADES & WEAPON CUSTOMIZATION
Mobile Operations Center Upgrades – 30% off
Mammoth Avenger Renovations – 30% off
Benny's Upgrade – 30% off
Engine Upgrades – 30% off
Handling Upgrades – 30% off
Brake Upgrades – 30% off
Transmission Upgrades – 30% off
Turbo – 30% off
Suspension – 30% off
Spoilers – 30% off
Mk II Upgrades – 25% off (cost to upgrade to Mk II weapon)
Source: GameSpot