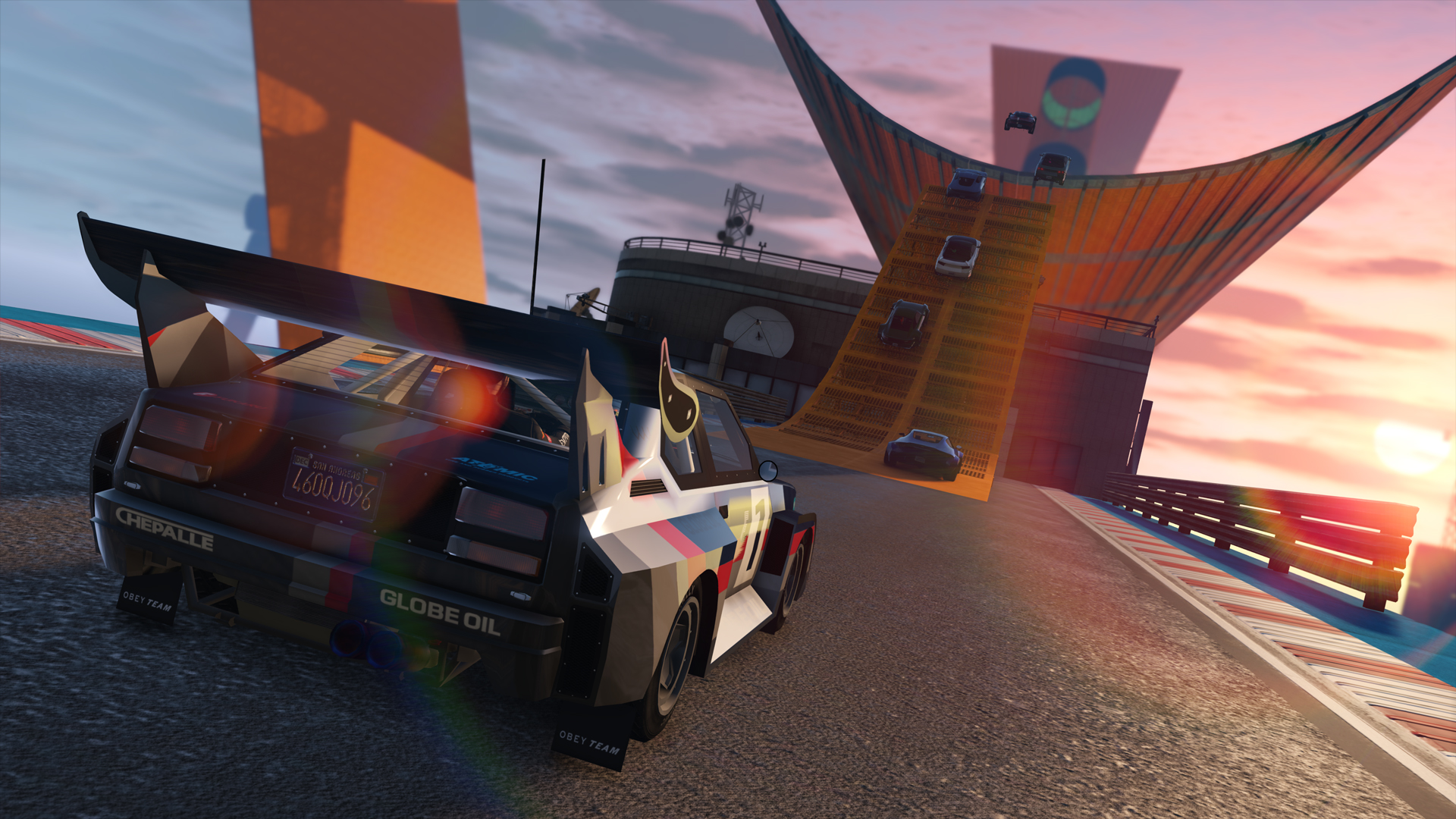 Rockstar has rolled out the latest content update for Grand Theft Auto V on PlayStation 4, Xbox One, and PC. Along with the usual assortment of discounts and bonuses, this week GTA Online players will find another new vehicle, as well as more tools to create their own races.
Starting this week, GTA Online players can add the classic fighter jet, the P-996 Lazer, to their fleet. The jet has been featured in several missions in GTA Online, but now you can purchase your very own via Warstock Cache & Carry.
In addition to the P-996 Lazer, Rockerstar has added a suite of props and checkpoints to the Race Creator. More notably, players now have the ability to create their own Transform Races. This new type of Stunt Race is one of the most recent additions to GTA Online. In a Transform Race, your vehicle automatically changes between bikes, cars, planes, and other types of vehicles depending on the terrain.
Players looking to earn more GTA$ and RP quickly have many options for doing so. A slew of modes will offer double bonuses through December 11. The full list of modes and activities that reward you with double GTA$ and RP right now includes:
Transform Races
Special Vehicle Work
Biker Contract Missions
Motor Wars
Stockpile
Every Bullet Counts
Inch By Inch
Running Back
Bodyguard and Associate Salaries
You can also find discounts on a range of items, which are also available through December 11. You'll be able to pick up the following for 25% off:
Dynasty 8 Executive
Executive Offices
Executive Garages (including style upgrades)
Maze Bank Foreclosures
Bunkers
Hangars
Biker Clubhouses
Warstock Cache & Carry
Mobile Operations Center Cabs
APC (Buy It Now & Trade Price)
Weaponized Tampa (Buy It Now & Trade Price)
HVY Nightshark
Half-Track (Buy It Now & Trade Price)
Dune FAV (Buy It Now & Trade Price)
Karin Technical (Buy It Now & Trade Price)
Anti-Aircraft Trailer (Buy It Now & Trade Price)
Buzzard Attack Chopper
Finally, this week's Premium race is Trench II, which is locked to Muscle-class vehicles. Everyone who participates will earn triple RP, while those who finish within the top three will receive a big GTA$ payout. The Time Trial for this week is Fort Zancudo. Everyone who beats the target time will earn a big GTA$ and RP reward.
Source: GameSpot