Many features common to the
Halo
series will not be making a return in
Halo
5. After reporting that the new game will no longer support split-screen, the Studio Head at 343 Industries, Josh Holmes, also told a fan that there will be "no voting or veto, just straight rotation," while answering questions on Twitter.
What does this mean for fans of the well-known
Halo
series? Simply put, this change will no longer allow players to fight on the same map(s) on a repetitive basis, taking away the feeling players may have had of somewhat controlling the outcome of how further matches were played. However, Josh did not mention whether this new rotation system will be randomized or set on the same group of maps like it is in
Battlefield 4.
This change in the map system could ultimately improve gameplay by offering more map variety, giving players the chance to experience all the landscapes available in
Halo 5
instead of constantly playing on people's favorites.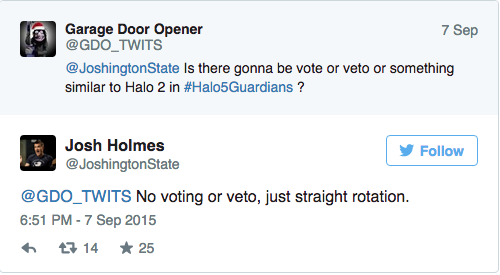 Halo 5: Guardians
is set to launch on October 27th, exclusively to Xbox One. A limited edition console and controllers for the game are now available to preorder at the Microsoft Store.
How do you feel about this change in the map system? Do you think it has the ability to change the overall gameplay of
Halo
? Share your thoughts below.
Gamespot