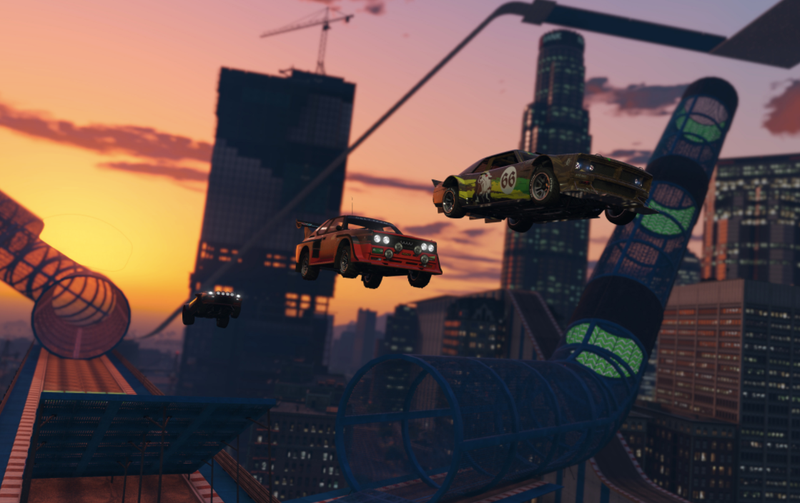 Rockstar is continuing its weekly support of Grand Theft Auto V with another update for GTA Online. This week marks the start of the Southern San Andreas Super Sports Series, a "massive" multi-week series of updates that will introduce new racing modes, vehicles, and more to GTA Online.
The Super Sports Series kicks off with the debut of Hotring Circuit, a new racing mode that Rockstar describes as "an homage to Vice City's classic Hotring mixed with the Cunning Stunts of GTA Online." Hotring Circuit is a multi-lap race that up to 30 players can participate in. To celebrate its launch, Rockstar is offering double GTA$ and RP for playing the new mode from now until March 26.
Hotring Circuit is tailor-made for one of the five new cars arriving in GTA Online this week: the Declasse Hotring Sabre. That vehicle is available for purchase now from Legendary Motorsport alongside two new Super-class cars--the Overflod Entity XXR and Cheval Taipan--as well as the Vulcar Fagaloa and Vapid GB200. You can take a look at all of this week's new vehicles in the gallery below.
​
If you need more space to store all of your new cars, this week's selection of deals features discounts on vehicle storage. Players can also save on car upgrades this week, with discounts on engines, brakes, spoilers, and other customization options. You can find the full list of this week's GTA Online deals below.
The Premium Race this week is Threading the Needle. As always, everyone who participates in the race will earn triple RP, while the players who finish in the top three will receive a big GTA$ payout. This week's Time Trial is Down Chiliad. Players who manage to beat the target time will be rewarded with a nice GTA$ and RP bonus.
This is only the first part of Southern San Andreas Super Sports Series. On April 3, Rockstar will introduce Target Assault mode to GTA Online, in which eight teams of two players race around a track and shoot at targets. Beyond that, the developer plans to roll out 10 new Special Vehicle Races and two new Adversary Modes.
This Week's GTA Online Discounts
Properties
Executive Office Garages -- 30% off
Custom Auto Shops -- 30% off
Penthouse Suites -- 30% off
10 Car Garages -- 30% off
Vehicle Upgrades
Engines -- 25% off
Turbo -- 25% off
Brakes -- 25% off
Transmission -- 25% off
Suspension -- 25% off
Spoilers -- 25% off
Bullet Proof Tires -- 25% off
Source: GameSpot