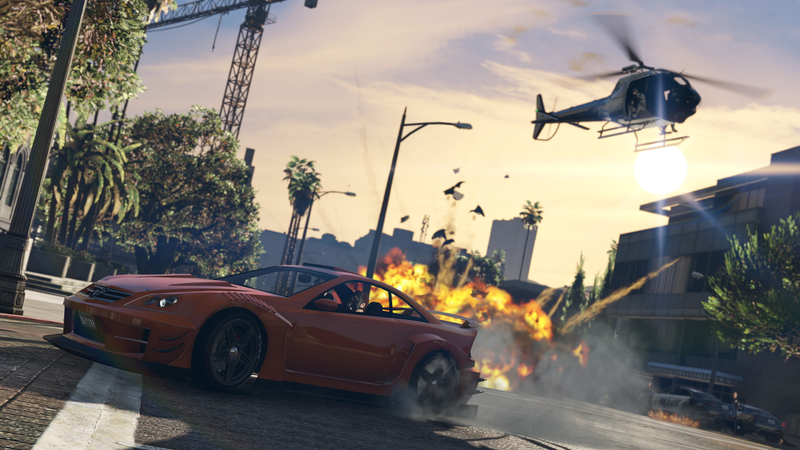 ​
Rockstar has rolled out another batch of content for Grand Theft Auto V. Along with a new selection of in-game bonuses and discounts, the developer has introduced a new, battle royale-inspired Adversary mode for GTA Online called Trap Door, which is available to play now on PS4, Xbox One, and PC.
Trap Door pits teams against each other on a floating platform that is shrinking "rapidly" throughout the match. Each time a player is killed, they are transported to the red zone, where they're given only a few seconds to escape to the main platform before the zone disappears and dumps everyone within into the ocean.
To commemorate the launch of Trap Door, everyone who participates in the new mode in the next few days will receive extra bonuses. From now until May 21, Trap Door is paying out double the usual amount of GTA$ and RP. You can jump into the mode either from the boot screen or by setting a waypoint to the Featured Adversary mode.
In addition to Trap Door, players will earn double GTA$ and RP for Biker Business Sell Missions, while Smuggler's Run missions will pay out double GTA$ this week. Those who also participated in last week's Business Week event will now find their bonus money waiting in their Maze Bank accounts.
On top of the aforementioned bonuses, players can save 30% off of Executive Office Garages in GTA Online this week. An assortment of "fan favorite" vehicles and weapons are also on sale; the full list of discounted items can be found below. You can read more about this week's GTA V discount on Rockstar's official website.
This Week's GTA Online Discounts
Vehicles
Mammoth Hydra -- 40% off (Buy It Now & Trade Price)
Declasse Hotring Sabre -- 25% off
Vapid GB200 -- 25% off
Vulcar Fagaloa -- 25% off
Ubermacht SC1 -- 25% off
Coil Cyclone -- 25% off
Lampadati Viseris -- 25% off
Vapid Caracara -- 25% off
Weapons & Tattoos
All Ammo (including Mk II) -- 25% off
All Assault Rifles -- 25% off
All Sniper Rifles -- 25% off
All Shotguns -- 25% off
Doomsday Heist tattoos -- 25% off
Source: GameSpot