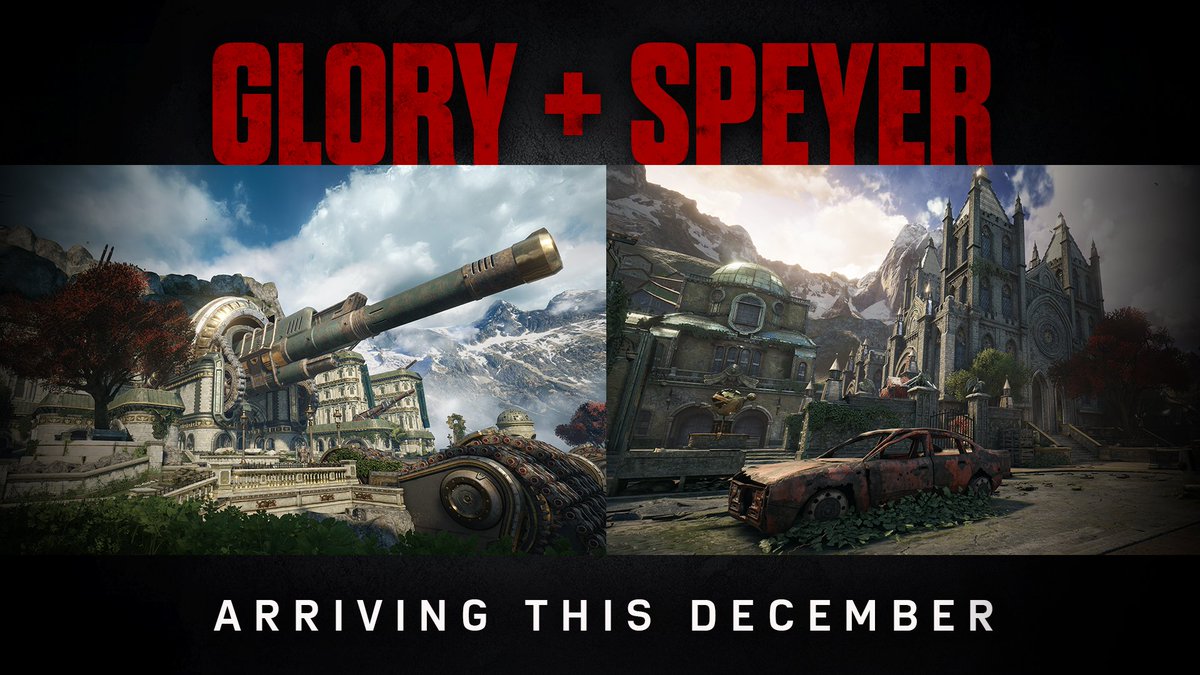 More free DLC is headed to Gears of War 4 this month, Microsoft announced today. An update scheduled for this month will add two new maps, as well as new features and fixes, while a Christmas-themed event is slated for later.
The new maps are called Speyer and Glory. Speyer's scenery shows what life looked liked before the Locust War. The map has long sightlines, so proficient snipers might like it. As for Glory, it is a pretty badass-looking map that has a fortress on it. Players who hold this area can make use of a mounted turret to attack enemies down below in the courtyard.
Both maps will be added to Gears of War 4's multiplayer hopper for all players starting on December 13. When these maps arrive, the Gridlock and Relic maps will vanish--for now at least. As announced previously, all Gears of War maps are free in public playlists on a rotating basis. If you want to play maps that are no longer in rotation, you can buy the game's season pass or purchase the maps individually.
Season pass-owners can play the new maps starting on December 6 through the "Developer" playlist. They'll earn extra XP and credit rewards for playing during the December 6-13 window. Microsoft added that it's looking at possibly adding even more benefits for season pass owners, though no specifics were provided.
Microsoft intends to add two new maps every month going forward, for a total of 24 DLC maps when things wrap up.
Beyond new maps, Microsoft is planning more updates for the future beyond this one. New features on the way include a pre-game lobby for the Core and Competitive playlists, while the developer will also roll out new "punitive tools" aimed at discouraging quitting matches early.
Further, Microsoft announced that Gears of War 4 will celebrate Christmas with a "Gearsmas" event. There will be "new content" to earn, holiday heads to unlock, and an event where you get to use a winter-themed version of a classic Gears of War weapon. More details on the event are coming soon.
Source: GameSpot