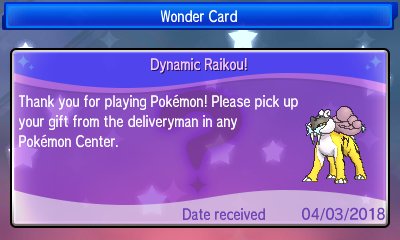 Next month you'll be able to claim two more Legendary Pokemon with an in-store promotion at GameStop stores. Serebii reports that from May 4 through May 27, you can claim the dark/flying type Yveltal in Pokemon Sun and Ultra Sun, and the fairy type Xerneas in Pokemon Moon and Ultra Moon. Both were the cover characters for Pokemon X and Y, respectively.
This is part of Nintendo's year-long Legendary Pokemon celebration, which has been distributing a new set of rare monsters regularly through in-store promotions. The current promotion is through Target stores, handing out a free Entei and Raikou. That giveaway has ended for European trainers, but those in the states still have until April 29 to claim theirs.
To get yours, head to the proper retailer during the specified dates and select Mystery Gift from the main menu. From there, you'll be able to either download or input a code distributed through the retailer. Once you log back in, find the delivery man in the Pokemon Center to grab it, and make sure you have an empty spot in your party to claim the monster.
Nintendo promised a full Year of Legendaries in 2018, giving away bucketfuls of high-powered pocket monsters. January and December are the only two months missing, making this the fourth Legendary distribution. Next month fans will be able to get their hands on a Shiny Zygarde, also from X and Y.
Source: GameSpot