​
Ever since it's original release back in 2013, the Xbox One has seen a few software upgrades, along with the newest additions of the Elite Controller and Console. But for consumers, the biggest update the console has seen was its $50 price drop earlier in the year that has made it easier for many to finally make the upgrade. Just recently, the PlayStation 4 has also cut down their price tag by $50, seemingly just in time for the upcoming holidays. With all of this back and forth pricing competition under way, it has been revealed that there will be a new Xbox One bundle available on Black Friday that will feature the lowest price tag the console has ever seen.
With Black Friday coming in roughly a month, Dell has created a website (bfads.net) that grants consumers a sneak peek to some of the great deals they will be able to take advantage of. One of those deals just happened to be an online exclusive 500GB Xbox One bundle that comes with
Gears of War: Ultimate Edition
, a copy of
Fallout 4
, and a second controller. All for only $299. Not only will this bundle be the cheapest we've seen, it will also be the absolute best way to get the most bang for your buck. So for everyone out there that has yet to purchase an Xbox One, November will be the best opportunity for you to make the upgrade!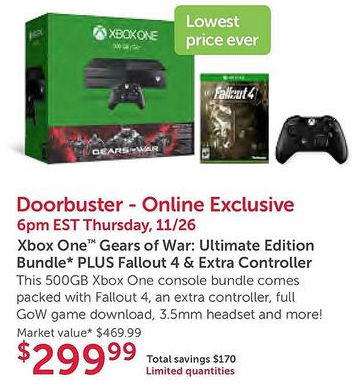 Credit to Feyfolken for the topic!
Source