​
Since
Fallout Shelter
launched in June of 2015, the game topped charts and has even received numerous awards since its creation. Todd Howard, Bethesda Game Studios' Game Director, stated at release that new features and updates would be added to the game consistently over time. Holding true to their word, Update 1.4 is looking to add a substantial amount of content in what the developers are calling their "biggest update yet."
This update will dramatically change
Fallout Shelter
with a new feature called "crafting" which will allow players to turn their useless "junk" into practical items for use. Junk can be obtained as a fifth item from lunchboxes and it can also be found by Vault Dwellers exploring the wasteland. As part of this new crafting system being introduced in Update 1.4, there will be new rooms for creating weapons and armor, fittingly named the Weapon and Armor Crafting Rooms.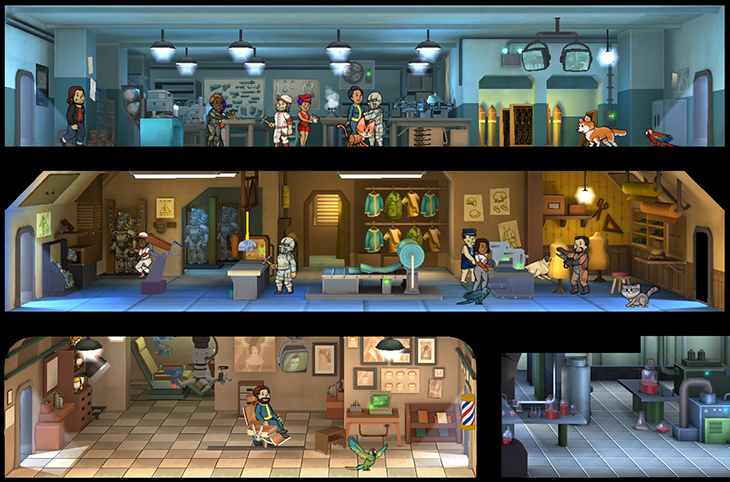 The Barbershop will also be added to the roster of new rooms, giving the player the ability to customize the appearance of each Vault Dweller. The customization options don't stop there, however! Outfits and armors from
Fallout 4
will be making their way into
Fallout Shelter
with this update and they can be obtained from lunchboxes or from the new crafting system.
New pets have also been added, with different cats and dogs coming alongside a brand new type of pet: a parrot! Pets will also give out some new bonuses with this update.
Lastly, the time of day will show up as part of the environment, with day and night cycles now being reflected outside of the Vault.
Update 1.4 is now available as a free download for
Fallout Shelter
in the Google Play or iOS App Stores.
Source