Before you start to contemplate whether this is an April fools prank, I assure you everything in this article is completely true! It has become an unlikely tradition for video games to get in the foolish spirit on this very day, from the smallest to the most drastic change, video games have been known to pull on the heartstrings of gamers or shock them with horrific news. So, you've thought your favorite game has just released the most exciting piece of news you've ever heard? well, there may be a chance they are lying. To help you sought the fact from fiction, I have summed up some of the most iconic pranks played by video games today.
Starcraft II: Legacy Of The Void Renamed​
It must have came as a shock to eager Starcraft fans when their favorite game was to be renamed to Starcraft II: Herald Of The Stars. You may be wondering what makes this so humorous? well, Blizzard Entertainment are seemingly pointing out that most of their recent games have been following the same acronym as each other, HOTS. Their recent games with the same acronym are Earth Of The Swarm, Heroes Of The Storm and Hearth (of the) Stone. Blizzard even went out out of their busy schedule to write up an extensive article highlighting the significance of the name change, the most iconic quote from the article was from the 'Head Of Trend Studies' Jack Sterling who said the following:
"At Blizzard, we constantly strive for optimization. Over the last few years, through deep market analysis, ethnographic study, and highly advanced acoustic research, we have come to scientifically prove that the player community prefers games with titles that form the following acronym: HotS. We were amazed. It's quite unexpected. For some reason, people just synergize with the acronym HotS. In one study, 87% of respondents choose the HotS acronym over another random video game acronym. People seem to like how easy it is to say, how attractive they feel when saying it, and the sudden rise in body temperature associated with such an impactful acronym. Other than that, it's baffling, but it's awesome at the same time!"

To read the article, click
here
Football Manager Financial Takeover?​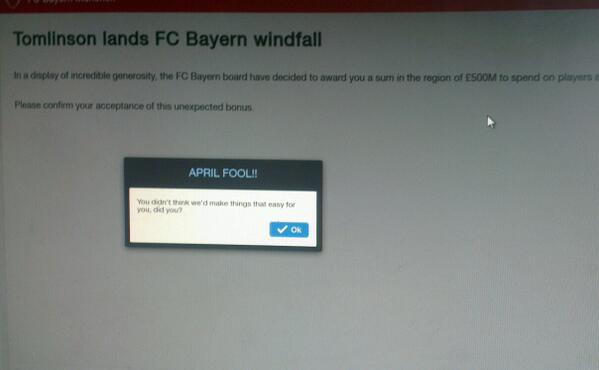 ​
Calling all football fans! you may be wondering what has been wrong with your game today, maybe you're delighted turned shocked face will help tell us the tale. It seems that SI games' main intentions today was to prank its gamers with the unrealistic 'financial takeover' of their club. The financial takeover which would be 'available' to gamers would be first noticed when a gamer starts a new game, the following notification would pop up saying "In a display of incredibly generosity, the (club) board have decided to award you with a sum in the region of £500m to spend on new players and a new stadium." After several minutes of sheer happiness, the gamer would then press continue to find out that it was all a lie, another notification would appear telling the gamer that they've been fooled, how very shallow SI Games!
A New Killzone Movie... Directed By Tim Burton?​
Many of Killzone's hardcore fanbase have constantly been supporting the idea of a movie related to the games incredible plot, however in a turn of events, it seemed that today was to be the day in which the new Killzone Movie was to be announced, directed by none other Tim Burton! According to Sony's Killzone Blog, the film is to be directed by Tim Burton and feature Johnny Depp and Helen Bonham Carter.
According to the blog "The movie focuses on the events depicted in Killzone Shadow Fall after the Helghast settle on planet Vekta. The story follows the adventures of Ghoran (Dep) - an Insurgent who has to prevent Kellan from stopping the war, and Halla (Bonam-Carter) his rogue Vektan accomplice." To view the blog, click
here
The movie dreams could only create only lasted a few hours as it was busted through the twittersphere and was declared a hoax by Sony, sorry Killzone fans, you will have to wait even longer.
Google Maps Announce New Pokemon Challenge​
​
Another common prankster within the technology front are internet giants Google, whom earlier today announce plans for their new game 'Google Maps: Pokeemon Centre' for more information on the story, have a look at
Skrubsy
article
on the prank!
So, have you learnt your lesson yet? the moral of the story is to never take notices from video games seriously on April Fools or else you'll end up seriously heartbroken or in bursts of laughter.
Make sure to keep an eye on the article for more updates on anymore pranks played online or on video games!